Podcast: Play in new window | Download
There's a ton of BS out there, so I wanted to clear the air with this complete guide to financial advisor marketing. In this blog you'll hear about 55 easy ways for wealth managers to get new, wealthy clients.
Let's go!
But first…
For those of you who are new to my blog/podcast, my name is Sara. I am a CFA® charterholder and financial advisor marketing consultant. I have a weekly newsletter in which I talk about financial advisor lead generation topics which is best described as "fun and irreverent." So please subscribe!
#1 Using personalized, selfie thumbnails is a powerful marketing for a financial advisor
Remember that the biggest obstacle to your success in building trust is someone not knowing or believing that you are who you say you are.
Clarification: it isn't that you don't tell a good story. It's that they don't truly believe it, in their core.
Increase your chances of building success by showing your face. These don't have to be professional grade photographs very time. In fact, pictures that look like they are taken in a natural environment (instead of super corporate) tend to look more authentic and people love that.
Here are some selfie-photo tips for financial advisors.
Websites such as remove.bg allow you to edit out the background in a click of a mouse. I used it for this thumbnail below and the picture came out great despite my bad hair day.
Wowsers!
Now you see what I mean about the hair, right?
#2 Get emotion-evoking titles
Financial advisor content is typically boring and dry, better used as a cure for insomnia rather than a way to attract attention. One of the marketing ideas that financial advisors love is this headline analyzer tool from AM Institute.
See, here's an example of how it gives you feedback about how good your title is. I was going to use this title for my blog but decided to revise it back on this feedback. Aren't you glad I did?
The first line means everything, whether it is the first line of a social media post, the newsletter subject line, title of a blog post, etc. Spend at least 30% of your prep time on this.
#3 Use keyword research even if you aren't blogging
Financial advisors aren't usually that psyched about blogging, but that doesn't mean that keyword research is for the birds.
Which leads me to my third financial advisor marketing idea – use keyword research tools to help you assess the relevance of your blogs, newsletters, social media posts, and any other content you're creating. Even if you could care less about SEO, it's of high importance to understand what people care about (as evidenced by what search volumes are highest on a particular topic on Google.)
There aren't that many good keyword research tools you can get for free, but Neil Patel's Ubersuggest tool is excellent. You get three free searches a day before they try to make you upgrade.
Remember that you'll never know as much about what people think as what Google knows. So stop guessing and use the data that's available to you. When researching a content idea, you should also be looking at what Google returns for related searches and "people also ask" for the topic ideas you search on.
When I first started blogging, writing newsletters, and posting to social media as an "influencer", I was kinda lucky a few times. I had a few big hits that really did well and earned me a following. But I was just guessing. It was kinda random. Once I started to apply these research techniques described, I became better able to read my audience, anticipate their questions, and speak directly to what they wanted to hear. It has allowed me to achieve higher views with consistency and better reach the people who needed it.
Looking back, I wish someone had pointed out what I just write in #3: use the free data that Google offers to be your guide as to what people want you to talk about whenever you are producing content. There may be other forums such as chat groups, Reddit, Quora, and even writing down the questions your clients ask you and picking the best ones to answer in your content.
#4 Interview local business owners
Being on the internet is a wonderful thing. But that doesn't mean that space and geographic proximity have no meaning.
I'm amazed at the amount of financial advisors whose marketing idea repertoire focuses so hard on using digital marketing to find people across the country, at the expense of stopping to have coffee with the realtor in your neighborhood who probably deals with three high net worth families a day.
CPAs and attorneys are the typical sources of referrals for financial advisors – but please do not overlook the local business owners who may work with wealthy people in your own backyard. Interview them for your blog or newsletter, tag them on social media posts, and build a relationship with them while using your business to give theirs a voice.
By the way this can be a great source of local SEO (if you're into that). Example: writing a blog about something like, "Who's the best realtor for doctors in Pembroke, Massachusetts?"
#5 Download and review your LinkedIn contacts
Even if you have 100 people following you on LinkedIn, it's unlikely to remember who all of them are.
Agree/disagree?
Some of the best prospects are people who know you in some way from the past and have a positive impression of you, and that you've been moderately in touch with, maybe even sporadically, over time. For example, that friend from high school that you saw 10 years ago at the reunion, that asked you to connect on LinkedIn five years ago, that you send a LinkedIn message every now and then.
And – the best thing about this financial advisor marketing idea is that it's free!
It won't cost you anything to download and review your list of LinkedIn contacts. I won't bet on it, but I would say it's pretty likely there is at least a few people in there you could reach out to, as either a direct prospect or an influencer over a group that you are interested in talking to.
50 more marketing hacks for financial advisors
Here are 50 more ways you can use financial advisor marketing tools and strategies to get new, wealthy clients. You're probably already familiar with some, so I'll keep it brief.
#6 LinkedIn messenger
Remember to use the Two Sentence Rule when you send LinkedIn messages. It will help you sound less like a washing machine salesperson.
#7 LinkedIn postings into the feed
Here's a guide to how to create kicka&* LinkedIn postings if you're a financial advisor.
#8 LinkedIn ads
There's alot of ways you can get ripped off if you are paying to advertise on LinkedIn. Read about how to avoid wasting money on LinkedIn ads before you do this.
#9 LinkedIn groups
They aren't what they used to be; but there are some good quality LinkedIn groups that financial advisors could use to get new clients.
#10 Facebook messenger
Same as with LinkedIn messenger, brevity is key. Should you be using Facebook or is LinkedIn better? See my blog analyzing the differences between Facebook and LinkedIn.
#11 Facebook postings
#12 Facebook ads
Facebook tends to cost less than LinkedIn but the audience is, in general, not as affluent.
#13 Facebook groups
You can do great in Facebook groups if you get the right one. There are some very lively community groups where you can meet wealthy prospects thorough socializing online and then eventually move the conversation to what you do…but you have to do this with patience and sincerity, always putting them first.
#14 Instagram messenger and posts
#15 Instagram stories
#16 TikTok
TikTok is not the financial advisor's first choice for social media platforms…and maybe that's why it should be yours!
#17 Snapchat
See TikTok.
#18 Clubhouse
See TikTok.
#19 Twitter
Twitter is raw and real but I've seen some financial advisors do well in terms of gathering a following and using that to create opportunities.
#20 Pinterest
#21 Google Search
It's a thing of beauty when you are able to get Google to send you qualified clients. Check out my podcast on financial advisor SEO tips.
#22 Google ads
Financial keywords are expensive so make sure you know what you're doing.
#23 Collaborative blog posts
Inviting a center of influence or prospect to be quoted on your blog, or to write a blog jointly with you, can build wonderful relationships.
#24 Email newsletters
It's not as flashy as some of the other methods, but good ole' email isn't going out of style yet with the Boomers.
#25 Cold prospecting emails
Make sure you know what you're doing here.
#26 Follow up emails with pizzazz
All too often, financial advisors assume the prospect isn't interested. Put some zing into your follow up emails and you may just get a better response.
#27 Podcasts
It can take a while to build a following, but podcast can be very intimate in the sense that it's almost like you are talking one on one to someone driving home in their car or listening to you while they're on the stairmaster at the gym.
#28 YouTube videos
I've seen financial advisors rock YouTube and it's amazing.
#29 Dinner seminars
With the pandemic winding down (hopefully), dinner seminars by wealth managers are back in. Make sure you do it thoughtfully or you may waste a ton of dough.
#30 Facsimiles
Yes, some people still use faxes. And the good news is that they're such a dinosaur that financial advisors don't bother sending them. Which is why you should consider it…
#31 In person networking
Just don't be "that advisor" at the BNI meeting shoving their business card in everybody's face.
#32 Flyers
Make sure you use recycled paper.
#33 Billboards
As far as society has come, we still get caught in traffic.
#34 Newspaper ads
Your local paper may be a good marketing idea, as financial advisors tend to work within their community.
#35 Guest blogging into publications your target audience reads
Go find a nice luxury magazine or an estate/trust blog and ask if you can write a guest article every now and then. It'll improve your credibility and if it's the right publication, you may find some new leads this way.
#36 Sponsoring a live performance, work of art, sports team, charity, etc.
#37 Direct mail
It can be expensive to send out mailers, and you also don't get any real analytics as feedback other than if someone decides to pick up the phone.
#38 Word of mouth
This isn't a financial advisor marketing idea, really, it's simply the #1 way that affluent people come to financial advisors. How can you improve it? Do an impeccable job with your clients, and make sure you stay visible with your network base. A good marketing plan can help you with the latter.
#39 Centers of influence
CPAs and attorneys aren't the only good sources of referrals for a financial advisor. There are less traditional centers of influence that I encourage wealth managers to pursue.
#40 Contests/giveaways
Make sure you check with your legal department, and follow all the rules.
#41 Infographics
Get a good graphic designer and put together a stunning piece to summarize what would otherwise be a technically confusing concept.
#42 Writing a book or ebook
I'm not the biggest fan of financial advisor writing books. But if there is something that you can talk about better or different than the typical way it's usually done, go for it.
#43 Throwing a party or event
Maybe something practical and out of the ordinary, like a computer recycling event.
#44 Webinars
As it's a pandemic people are pretty Zoomed out so you'd have to make it entertaining.
#45 White papers
See #42.
#46 Memes
As in #41, you may need a graphic designer. There are good ones on Fiverr or Upwork.
#47 Comics
Humor is lethal in an industry that takes itself very seriously all the time.
#48 Telemarketing
Do it with sincerity and go for a lower volume with higher personalization.
#49 Library seminars
#50 Teaching educational courses at your local community college
#51 TV advertising
This is one of the more expensive financial advisor marketing ideas on the list. Proceed carefully.
#52 Radio advertising
See #51.
#53 Wikipedia page
For some reason this makes you look like a mini-celebrity.
#54 Press releases
#55 Branded clothing and accessories
Cash in those sock options! And pass on the branded waterbottles, okay?
Sara's upshot on non-BS financial advisor marketing
What'd ya think of my take on easy, no-BS guide to financial advisor marketing? Was this helpful?
If yes…
Learn what to say to prospects on social media messenger apps without sounding like a washing machine salesperson. This e-book contains 47 financial advisor LinkedIn messages, sequences, and scripts, and they are all two sentences or less.
You could also consider my financial advisor social media membership which teaches financial advisors how to get new clients and leads from LinkedIn.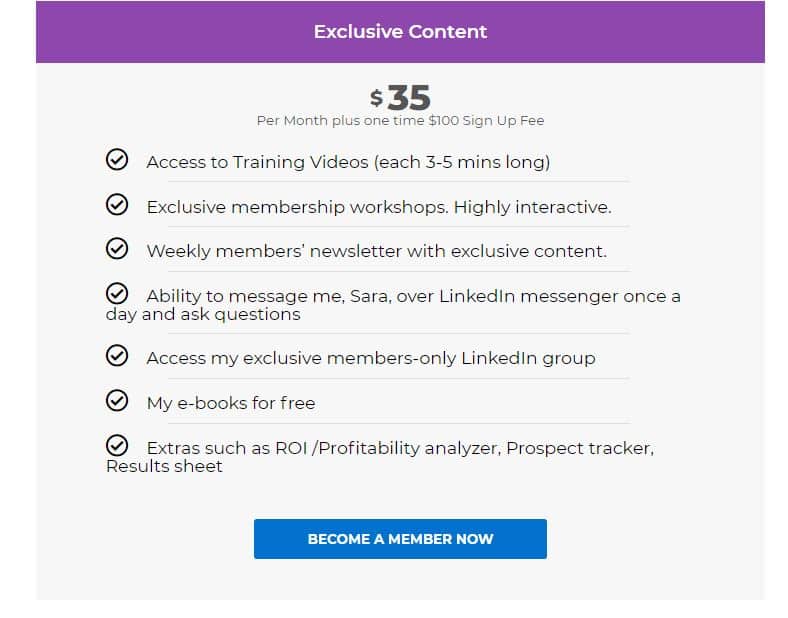 Thanks for reading. I hope you'll at least join my weekly newsletter about financial advisor lead generation.
See you in the next one!
-Sara G