Podcast: Play in new window | Download
Subscribe: Stitcher | Email | RSS
Not my choice of marketing strategy, but I know many financial advisors who have done well by getting new clients through dinner seminars. Here are some financial advisor dinner seminar marketing tips from Mark Mersman, Chief Marketing Officer of USA Financial.
For those of you who are new to my blog/podcast, my name is Sara. I am a CFA® charterholder and I used to be a financial advisor. I have a weekly newsletter in which I talk about financial advisor lead generation topics which is best described as "fun and irreverent." So please subscribe!
Let's get on with the blog!
Financial advisor dinner seminar marketing tips for getting people to the event
Here are some tips from Mark, an experienced expert about how to get people to the event.
First, what should the ratio be of registrants to attendees?
The medium used to fill the room is of high importance. For an in person seminar, there is generally a show up rate of 20-30% if cold means such as Facebook are used. That's a huge fall off. Mark has seen that there is more no-shows from using Facebook to market the event. The problem is that people aren't always as invested in the event. This is not a warm audience.
For this reason, Mark is an advocate of using direct mail. The show up rate is usually over 70% using this method. That's a huge difference. They seem to be much more invested in the process, in Mark's experience. You get a higher show up rate, but the cost of higher.
But what are the costs?
The cost to get a reservation through something like Facebook might be anywhere from $20 to $40. Through direct mail, the cost of a reservation would be $80 to $200. These are both numbers cited from Mark's anecdotal experience.
During the event – wow them!
You want to create an event that is unique and offers people an experience that will be memorable. Chances are, this isn't the first seminar event people have been to.
#1 Enticement
Give the event a theme to make it more interesting.
#2 Entering
When people enter, they should feel like they aren't entering a traditional seminar. Before they have walked in and sat down at one of the tables, you want to have something that starts to create this feeling that "this is a big deal, wow!"
If you have a podcast or radio show, perhaps you're doing an actual recording outside the room and they see you with the headset. Or maybe you have a photographer there. Just do something to create a buzz.
#3 Personalized
Before the event, find out what their interests are. Reserve the seat for them, and if they like sailing have a magazine related to sailing waiting there for them. You can research them on the internet and find out what they're into. Or you can send them a short questionnaire beforehand.
Financial advisor dinner seminar marketing tips for after the event
When they are exiting the event, make it memorable. Perhaps that is a personal handwritten note that you've written ahead of time and hand to them as they exit. Find a way to do something that is unique.
Two days later, five days later, how can you get them to be thinking about that event again? Maybe it's as simple as sending them a video that is personalized about the theme of the event. These financial advisor dinner seminar marketing tips may seem vague, but it's all about how you execute it with style and personalization.
Sara's upshot
What'd ya think of my comparison of LinkedIn vs Facebook? Was this helpful?
If yes…
Learn what to say to prospects on social media messenger apps without sounding like a washing machine salesperson. This e-book contains 47 financial advisor LinkedIn messages, sequences, and scripts, and they are all two sentences or less.
You could also consider my financial advisor social media membership which teaches financial advisors how to get new clients and leads from LinkedIn.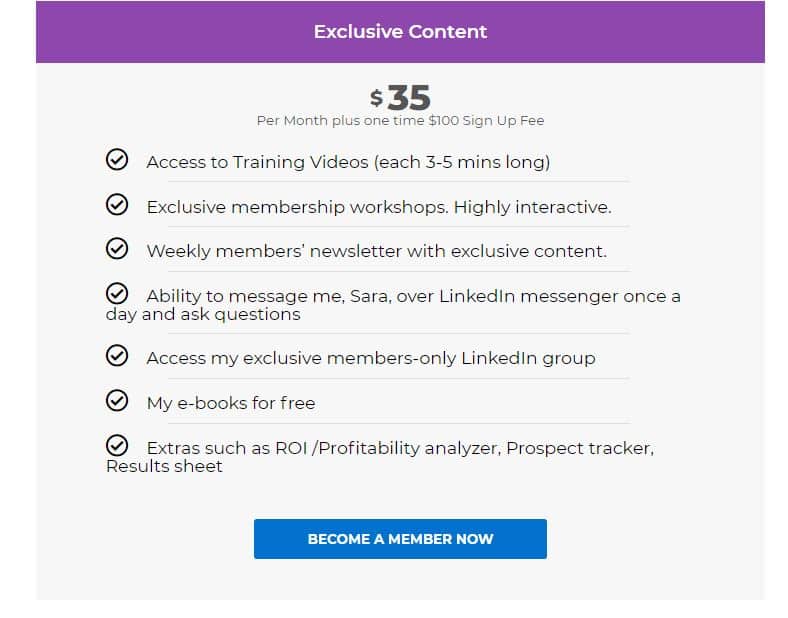 Thanks for reading. I hope you'll at least join my weekly newsletter about financial advisor lead generation.
See you in the next one!
-Sara G
Music is Arp Bounce by Geographer.