Podcast: Play in new window | Download
Subscribe: Stitcher | Email | RSS
It makes me sick to think about the extent to which financial advisors are ignored, blown off, breadcrumbed, and even subtly deceived by deadbeat CPAs and other Centers of Influence (COIs) who don't value them as business partners. If you're tired of having one way street relationships with the CPAs and COIs you're referring business to, learn the creative way to find the best referral sources for financial advisors.
For those of you who are new to my blog/podcast, my name is Sara. I am a CFA® charterholder and financial advisor marketing consultant. I have a weekly newsletter in which I talk about financial advisor lead generation topics which is best described as "fun and irreverent." So please subscribe!
Let's get on with the blog!
One way streets stink!
It is very expensive to have business relationships with someone who is a taker and who never does anything to benefit you, even in the least. That's the situation most of you are in where you're sending business to CPAs and estate attorneys who never give you the right time of day. In some cases, the CPA is sitting there taking referrals from you, or letting you take them out for expensive dinners at Ruth Chris, pretending they're not sending business to some schmo down the street instead of you. So smug. It makes me sick.
You can do better!
I don't mean to sound like I don't believe financial advisors can create meaningful, mutually beneficial relationships with CPAs and other COIs. In this podcast I talk about CPA relationship building, talk about the strategy a certain advisor follows, and it's worked well for him. However most of the time when this isn't done thoughtfully, you'll find yourself blown off.
I also don't mean to sound like I am advocating for 100% of the decision about who you refer business to be based upon what the COI gives back. These two things don't have to be mutually exclusive. I think you can find high quality people who will treat your clients amazingly, AND value your relationship enough to reciprocate back in kind, or if not, to at least help your business in other ways.
How?
Where do you find these people?
Let's talk about social media and influencer relationships.
Try these creative and possibly best referral sources for financial advisors
Now, to do this you're going to have to get past the small-minded way that most financial advisors go about referral marketing, and do things a leeeeetle bit unconventionally.
After you kick the deadbeats' butts to the curb, go out and find some of the following people. But first make sure they are the type of professional who works with the same kind of clientele as you do:
Landscapers
Hairdressers
Event planners
Wedding planners
Facialists
Golf caddies
Realtors
Real estate developers
Nanny agencies
Psychotherapists
Travel agents
Home builders
Realtors
Executive coaches
Resort owners
Luxury hotel managers
Tennis club employees
Charity fundraisers
Pool cleaners
Psychic mediums
Celebrity personal trainers
Private jet salespeople
Architects
Interior designers
Title insurance agents
Etc.
Get the point?
CPA's and attorneys aren't the only professionals who work with rich people. Everyone says they're the best referral sources for financial advisors, but are they really? Yes, their word goes a long way with their clients. But if they're dissing you, I mean, how long can you go on earning a 0% return on investment of time, money, and resources before it makes sense to attempt to find another way to get to where you want to go?
Remember to find the high end ones, though. Make sure they work with wealthy clients.
While you're at it, you might as well go find some cool CPAs who know how LinkedIn works, and some estate attorneys, too. But broaden the net a little bit and include these non-conventional referral sources.
Try it. If it doesn't work, at least you failed at something different rather than failing at the same thing over and over again.
But, if you do this right, it probably won't fail. And that's what you should focus on.
The magic sparkle dust that makes this all work?
Social media – and specifically, LinkedIn prospecting.
Swoonworthy content is key if you wish to attract the best referral sources for financial advisors
Being social media buddies with your influencers rocks. Here's why.
The person may or may not ever send you a client, but there are ways they can help you grow your business that are immensely more valuable than a direct referral.
Consider this.
If you post something and then tag (also called mention) the influencer, and then they share with their network, chances are they have some clients following them that will see it. Let's say those clients like or comment on your post. You then connect with those people. The more swoonworthy your content, the more attention you'll get from people like this and the stream of new connections from this influencer's network could be magnificent!
Now the next time you post something good, the influencer's clients are liking and commenting on your post. The influencer sees your post and thinks, "What a cool dude/dudette! They've got some serious swag going on." Chances are they'll share your stuff, comment more, and consider you in their "league" so to speak.
In other words, you can get the influencer's following's attention without the influencer having to say, "Hey meet Betty. She's my financial advisor friend." It just happens naturally through this process, if you do it right.
And this just creates more visibility with qualified clients in your target market, and once you get their attention it's up to you to get the conversation going on LinkedIn messenger which you can do quite easily if you know what financial advisors should say to prospects on LinkedIn.
Hint: no pitches, offers to review their portfolio, or sales cr-p allowed! You don't want that getting back to the influencer and it's not going to work anyways!
Don't overthink this. This is not a permanent decision. Just try it and see what happens!
LET'S DO THIS!
Sara's upshot
What'd ya think? Was this helpful?
If yes…
Learn what to say to prospects on social media messenger apps without sounding like a washing machine salesperson. This e-book contains 47 financial advisor LinkedIn messages, sequences, and scripts, and they are all two sentences or less.
You could also consider my financial advisor social media membership which teaches financial advisors how to get new clients and leads from LinkedIn.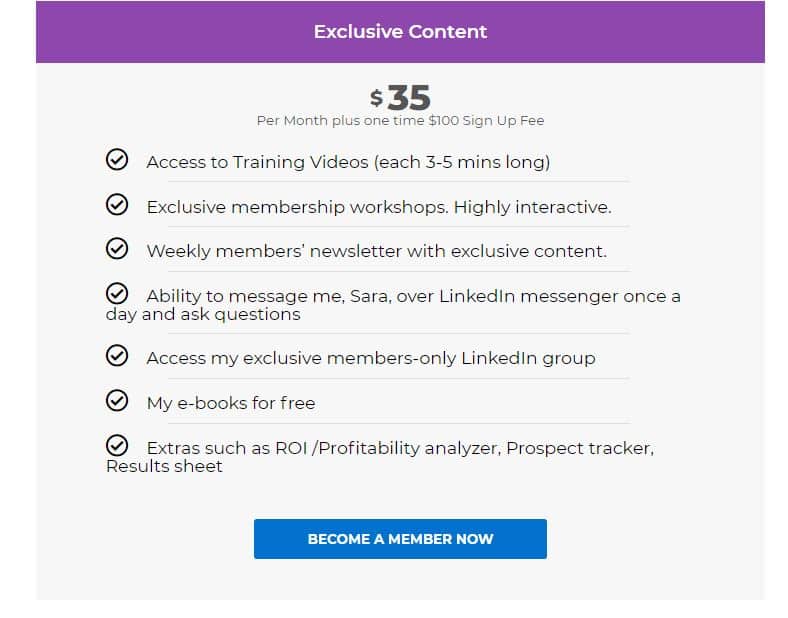 Thanks for reading. I hope you'll at least join my weekly newsletter about financial advisor lead generation.
See you in the next one!
-Sara G
Music is Nice to You by the Vibe Tracks