Often financial advisors ask me to compare LinkedIn vs Facebook in terms of what is better to use to market their practices. In this blog I'm going to give you the real story, direct and right to the point.
Are you ready?
But first…
For those of you who are new to my blog/podcast, my name is Sara. I am a CFA® charterholder and I used to be a financial advisor. I have a weekly newsletter in which I talk about financial advisor lead generation topics which is best described as "fun and irreverent." So please subscribe!
LinkedIn is potentially great for financial advisors who want to reach wealthy people
LinkedIn is great for financial advisors. It's mostly for working professions, and if you target the ones who are really successful and you can reach them, there are plenty of qualified, wealthy people to do business with. And you can search and find them by the company they work for, or where they live, so easily.
And that is super! Whoo hoo!
Potentially.
Here's the catch.
You have to approach them correctly. Don't act like a typical financial advisor; that is the worst thing you can do. You have to send the right LinkedIn message and not sound like you are selling washing machines. Also, your LinkedIn posts need the right energy and can't be droning on and on about boring crap.
Facebook marketing for financial advisors – does it work?
Here's my (opinionated) view on Facebook marketing for financial advisors – and you can take it or leave it. Facebook is not really a professional platform. There are great communities full of people willing to socialize with you, but the moment you pull out your business card and start talking shop, they're probably going to disengage, if you do it wrong.
There's alot of people on Facebook solely to goof off, see who your college boyfriend is married to now, to look at cat pictures. I know, I'm one of them. If somebody approached me with a business pitch on there, I'd be put off less than if it were LinkedIn. Facebook is business to consumer, while LinkedIn is business to business.
If you were a financial advisor who wanted to use Facebook for prospecting, my advice would be to get into one of the interest groups and start building up relationships. The groups on Facebook are way better for doing that than LinkedIn. LinkedIn groups are dead for the most part at this point. And while you're on there, be totally genuine and just connect, don't blast out with the business card on day one. There's going to probably be a much longer lead time since people aren't really there to talk shop and/or be marketed to, which (much more than they're willing to admit) is somewhat the case on LinkedIn.
What about financial advisors using LinkedIn or Facebook ads to get leads?
Some financial advisors have had success using Facebook ads to target wealthy people. I've also seen some financial advisors and financial planners try to use LinkedIn ads to find new clients.
Meh.
I'm not the biggest fan of paid advertising, and especially not (as I said) on a personal platform where people are there to enjoy themselves. Paid advertising is expensive and given you are financial advisors targeting high net worth individuals not everybody is qualified. The targeting on the platform matters a ton, because you don't want to spend money to put ads in front of prospects who aren't your ideal client.
However I will say the cost to advertise on LinkedIn is way higher than on Facebook. If I had to pick one platform, I'd say Facebook from a cost perspective, however I really don't think it's a good idea in the first place (like I just said).
LinkedIn vs Facebook – which works better for financial advisors?
If I had to pick one, I would say that LinkedIn is better than Facebook because you are dealing with an inherently more qualified population off the bat. However, there's nothing to say that you can't a financial advisor shouldn't use both Facebook and LinkedIn. There's no cost so why not at least have a page, right?
Financial advisors who are able to build relationships the right way will have success on either platform. Those who don't, will have success on neither.
Tips that apply to both platforms and do not vary (whether LinkedIn vs Facebook you are talking about) would be:
Be sincere and intrigued about the human condition of others
Post useful comment that you personally produce, not mass-produced
Don't bug people
Don't spam people
Know the algorithm and how it works (more on that here in my blog about LinkedIn prospecting)
If you are contemplating the differences between LinkedIn and Facebook, also consider what your following is like on these platforms. Which following is larger? Which platform do you personally take better to? Where you are naturally starting from is another point to consider.
Sara's upshot on LinkedIn vs Facebook
What'd ya think of my comparison of LinkedIn vs Facebook? Was this helpful?
If yes…
Learn what to say to prospects on social media messenger apps without sounding like a washing machine salesperson. This e-book contains 47 financial advisor LinkedIn messages, sequences, and scripts, and they are all two sentences or less.
You could also consider my financial advisor social media membership which teaches financial advisors how to get new clients and leads from LinkedIn.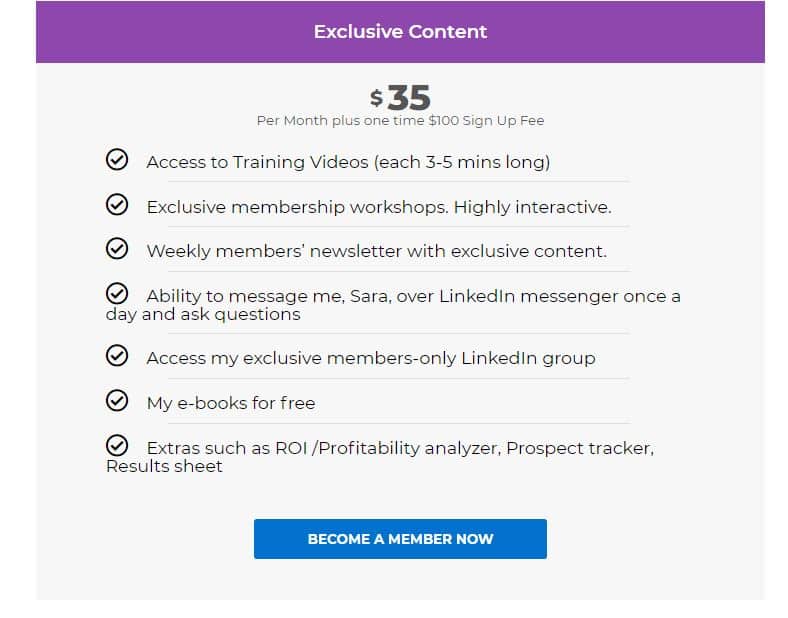 Thanks for reading. I hope you'll at least join my weekly newsletter about financial advisor lead generation.
See you in the next one!
-Sara G