Oh no – not another pathetic financial advisor LinkedIn summary! Don't get passed over because you sounded like another (boring) financial advisor on LinkedIn. Let's talk about how financial advisors can get a LinkedIn summary – and then I'll show you some examples that have zest!
Let's go!
For those of you who are new to my blog/podcast, my name is Sara. I am a CFA® charterholder and I used to be a financial advisor. I have a weekly newsletter in which I talk about financial advisor lead generation topics which is best described as "fun and irreverent." So please subscribe!
What is the purpose of a LinkedIn summary for a financial advisor?
I'll start by explaining what it is that all you financial advisors are doing wrong in your LinkedIn profile pages.
You're trying to sell the deal, right then and there.
Let me guess? Your LinkedIn summary (like 99% of financial advisors) goes something like:
For 20 years I've served high net worth individuals and families in a fiduciary capacity, helping them reach their goals and preserve their wealth. I put all my clients' best interests before my own, and am highly responsive to all their needs.
Wrongsies!
I get it, you want to be seen as credible. You want to be seen as high quality, moreso than the next one. But that's not really what the reader is looking for.
They want to be intrigued.
Not sold, but entertained.
The purpose of a financial advisor LinkedIn summary is to stir up the person's curiosity.
The more interested somebody is in you, the more likely they are not only to connect with you, but also to actually want to start a conversation. Maybe not about their money, but maybe just about something that struck their curiosity, fascinated them, or made them wonder about you.
How do you do that?
Basically you have to cut the crap and focus hard on not presenting yourself like every other pathetic financial advisor does on their cringeworthy LinkedIn profile pages.
Let's walk through some examples.
Bodacious financial advisor LinkedIn summary examples
Some general tips for how to get a good LinkedIn summary are:
Keep it short
Impart the key information in the first two lines before the text cuts off and LinkedIn folds it up and makes people click "see more" to continue reading. This gives you about two sentences to get the key points across about who you help, what your values are, and where you are located.
Do everything in your power to avoid sounding like the typical financial advisor. Ask yourself, "Would a financial advisor usually say this" and if the answer is yes, then click "delete."
Use humor wherever possible.
Show a little bit of a human side
It should be kind of like how you introduce yourself as a financial advisor in person. Only minus the boredom.
Don't throw your whole bio/history as a financial advisor at them.
Compliance disclosures go at the bottom – don't forget those!
Example #1:
I grew up in Santa Clara and started a family here – it's where my heart is. That's why it means so much to be able to serve my community as a wealth manager. My specialty is Medicare and Long Term care, but anyone who is within five years of retirement could benefit from my related expertise as well.
Example #2
When I founded my first business in sports advertising, I had no idea that the financial gravity of selling it was going to trump any challenge I encountered in growing it. It's given me the highest of empathy for entrepreneurs who are going through the exit process. That's why I chose to specialize my wealth management practice in this area and after 25 years I can say it's been quite rewarding to be a part of making this transition process easier on the business owners I serve.
Bonus: how to get a rocking Financial Advisor LinkedIn headline
Thanks for not clicking away.
You're nice!
Here's a bonus tip as a token of my appreciation.
I've commented on LinkedIn headlines before (and included a LinkedIn headline generator). There is a specific formula you need to follow to get a good LinkedIn headline.
The best financial advisor LinkedIn headlines are those that:
Evoke curiosity
Impart some sense of value
Energize the reader
Here's a great financial advisor LinkedIn headline example:
Wealth manager in human form with retirement planning superheropowers! ?
A leeeeetle touch of humor never hurts. You stand a far greater chance of people liking you if you can get them to laugh.
How's them apples?
Sara's upshot
LinkedIn does work for financial advisors. I've seen it pan out really well for some. You've got to follow these tips and others that I wrote about on my blog, though, if you want to stand a better chance of getting there.
What'd ya think of my financial advisor LinkedIn summary tips and examples? Was this helpful?
If yes…
Learn what to say to prospects on social media messenger apps without sounding like a washing machine salesperson. This e-book contains 47 financial advisor LinkedIn messages, sequences, and scripts, and they are all two sentences or less.
You could also consider my financial advisor social media membership which teaches financial advisors how to get new clients and leads from LinkedIn.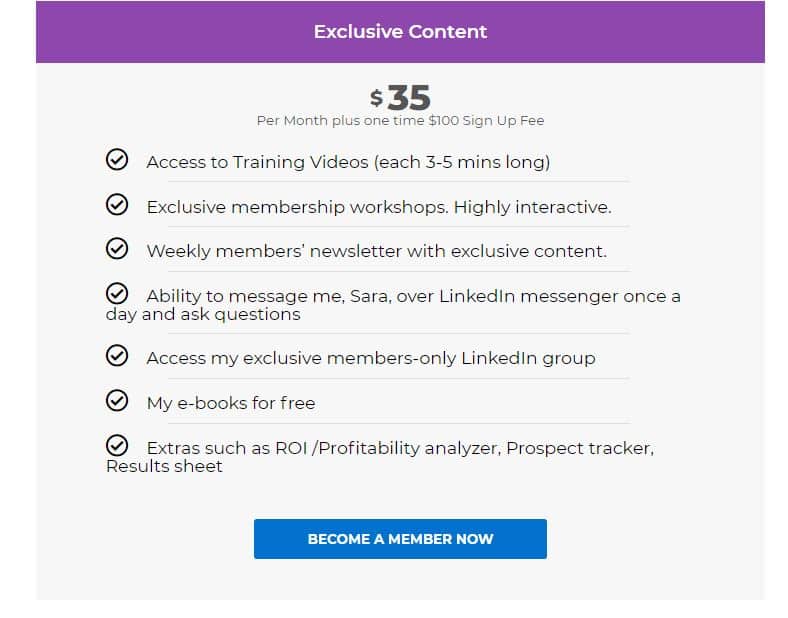 Thanks for reading. I hope you'll at least join my weekly newsletter about financial advisor lead generation.
See you in the next one!
-Sara G