Podcast: Play in new window | Download
Subscribe: Stitcher | Email | RSS
Financial advisors are skeptical that you can actually get leads from social media. Well today I have a planner who has blown up his lead pipeline, in less than nine months. Today we'll be talking to Thomas Kopelman, co-founder of AllStreet Wealth and you want to pay attention here because he makes getting leads from financial advisor social media look like a piece of cake!
For those of you who are new to my blog, my name is Sara. I am a CFA® charterholder and financial advisor marketing consultant. I have a newsletter in which I talk about financial advisor lead generation topics which is best described as "fun and irreverent."
And now onto the blog!
How financial advisors can get leads from social media
Thomas started on social media three years ago, in June of 2020. He narrowed his focus to Twitter in January of 2022. At that point he had 800 followers that were his friends from school; now he has more than 13,100 followers.
In quarter one of this year alone, Thomas got 60 qualified leads, all who came to him through Twitter, all who could afford his firm's $750/month minimum fee.
How did he do it? It was some combination of the following social media success factors for financial advisors.
He asked for help and mentoring when he was starting out instead of doing it alone
He didn't listen to other financial advisors who said that social media didn't work for them
He figured out the way to "hook" people with the first tweet
He devised a way to increase content quantity without sacrificing quality by using conversations with his clients as the source of his ideas
He uses an authentic tone
He embraces clarity and simplicity
Let's get into each of them.
He asked for help and found a support community
Right now Thomas is a fee-only fiduciary financial advisor. But when he started out, he was working for a broker-dealer firm that charged commissions. He stumbled across a man named Russ Ford who was a fee-only flat fee advisor, and he liked the message.
When he ran into Russ at a conference, he asked him to be his mentor. A lot of financial advisors are bent on doing it alone and you don't have to. In fact, it makes it way harder. Anyone who is starting out should join a financial advisor community that will nurture and guide you, and who won't take advantage of you by career trafficking you into an insurance sales smile-and-dial job.
Here are some tips for new entrants to the field pursuing a career as a financial advisor.
He didn't listen to bad social media advice from other financial advisors
Most financial advisors are doing social media wrong and not getting any leads from it. They're using too many acronyms, talking over the client's heads, posting content that is too dry, boring, and promotional. He saw these flaws and decided that he was going to pursue and different path – a bet that turned out to bear fruit, as he succeeded on social media where these discouraging financial advisors had failed.
He figured out you have to hook people
Thomas was posting on social media for a while, but he wasn't getting great results. His posts weren't space right and lacked visual appeal. Also, the first line wasn't a hook.
You can have the best content in the world, but if the first line doesn't reel them in, they will never read the whole post.
This article says it all: the first line in any marketing communication means everything.
He bases content on his conversations with clients to make it more authentic
Here's a simple rule if you are a financial advisor who wants to get leads from social media.
The conversations = the content
Meaning, after each meeting with a client, take notes on what the client learned, what they asked about, what difficult questions they had that you answered for them. Then answer these questions in a clear way – write down your answers. This will create an entire library of social media posts.
Getting leads from social media is a function of your communication skill as a financial advisor. If you can clearly communicate with clients, you can clearly communicate with an internet audience.
Example of a good financial advisor Twitter page
I like Thomas's Twitter page and feel it is a good financial advisor Twitter page for the following reasons.
He calls out to the people he directly serves, "equity compensated millennials" etc. Highlighting your specificity helps the audience know if he's worth following or not.
He's got a colorful banner photo behind him that establishes credibility.
He has a pinned tweet that provides a preview of the type of content he posts.
He puts a symbol next to his name to convey his topic.
Example of a successful tweet
This tweet is a great example of something a financial advisor should tweet about.
The first line is a great hook because it refutes an assumption. The mind thrives on novelty. In the opening line, he is triggering the reader, awakening us.
He uses the word "till" instead of "until." This is an authentic way of communicating that reflects his tone and makes him seem more human and real.
The second line "not true" continues to introduce shock and even some suspense, by refuting a popular belief. Now my ears are perked up.
It's almost as if this tweet hosts a Socratic debate that Thomas is having with himself. He's showing a balanced perspective, fleshing it out from multiple angles. This is a way of keeping it more like a conversation about them rather than him dictating facts or talking down to someone. He takes them through the entire decision instead of just saying, "you could take it out at 59.5, be smart about it."
He has a great website
In addition to his social media, Thomas's website is a great example of a transparent financial advisor website.
I like the clarity of the website. It's not overwhelming – look at all the white space. The home page makes it clear who they work with.
They have their pictures on the home page. This is a part of transparency that is really important. Most financial advisors aren't a huge brand, it's usually the advisor and maybe one team member that are primarily involved with the client.
Don't hide who you are. Trust comes through transparency. Put your picture on the homepage.
Pricing is clear. It's displayed simply and transparently in a way that is easy to understand – what they offer, and what it costs. Put your fees on your website!
Pull up your website and ask yourself:
Is there enough clear, open space
Is my picture on the home page
Is my pricing on the website?
Social media tips from a successful financial advisor
Thomas sums it up with these three tips.
Give yourself two years to scale up your social media. Don't expect too many leads before then.
Own one channel and one form of marketing. Don't spread yourself too thin or you'll become average at all of them.
Commit to a schedule. The algorithms (link ot article) prioritize people who are active and create content with regularity. Schedule it out in advance if you can.
(bonus) Find other people in other industries that inspire you and replicate their content. Don't copy, just follow their ideas.
Sara's upshot
Did we get you jacked up over transparency and clarity?
If yes…
Join the Transparency Advisor Movement.
The Transparent Advisor Movement's mission is to promote ideals of clarity, modesty, integrity, dignity, and client advocacy in all aspects of financial advice, with a special focus on Advice Only, Flat Fee, and Hourly service models. There is a special emphasis on clear disclosure of services and their related fees.
The Transparency Movement is the future of the industry – we welcome anyone who believes in our values to join us.
Join our next Transparent Advisor virtual meetup.
These meetups are free and the goal is to learn from each other about how to grow and manage a transparent practice for the benefit of clients.
Even if you can not make the meetup, or even attend in its entirety, please register for the replay and to be notified of the next one.
For marketing tips in the transparency age…
Learn what to say to prospects on social media messenger apps without sounding like a washing machine salesperson. This e-book contains 47 financial advisor LinkedIn messages, sequences, and scripts, and they are all two sentences or less.
You could also consider this LinkedIn training program which teaches financial advisors how to get new clients and leads from LinkedIn.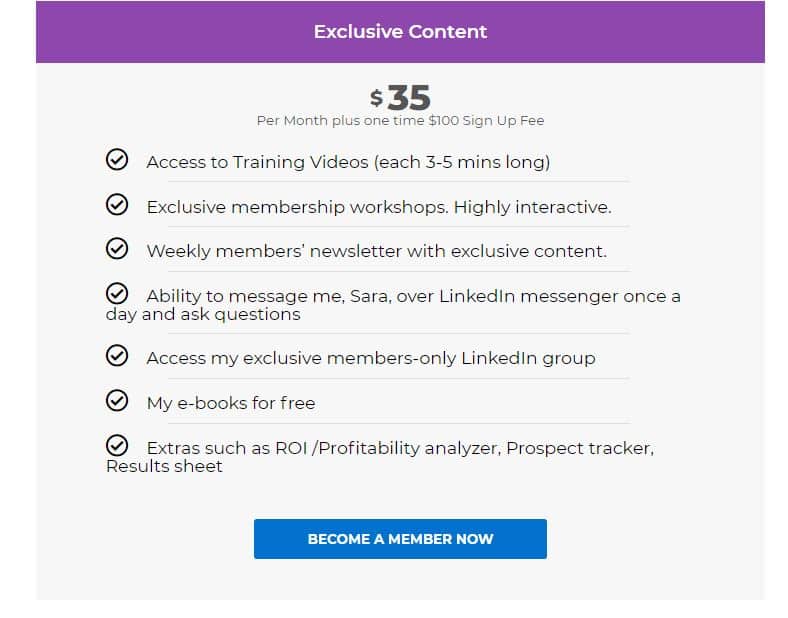 Thanks for reading. I hope you'll at least join my weekly newsletter about financial advisor lead generation.
See you in the next one!
-Sara G