There's a ton of crap advice out there so in this blog I am going to tell you the no BS, real story of how to become a financial advisor. Follow these five steps.
For those of you who are new to my blog/podcast, my name is Sara. I am a CFA® charterholder and I used to be a financial advisor. I have a weekly newsletter in which I talk about financial advisor lead generation topics which is best described as "fun and irreverent." So please subscribe!
#1 Decide how much pain you can take
Before I get into this, I just want to say that a career as a financial advisor backbreakingly painful when you first start out. Like any high paying career, there is a "hazing" or weeding out process whereby the weaker candidates are eliminated. Just like medical school and/or the military…
If you're not willing or not able to put up with the following inflictions of pain, don't do it:
Rejection
Not having money when you first start out
High scrutiny from industry regulators, and it's constantly changing
Extensive licensing requirements
Threat of potentially being sued
Constantly having to hustle for new clients and meet new people
A lot of this pain is minimized by access to funding early on. If you have capital saved up or you have access to financial support from another party, these problems may be minimized.
I do see some advisors who got into the business because they had a few friends or family who wanted financial advice, and then once they got past their initial contacts, there were no pipeline. Don't underestimate the hustle element. It may be a strain depending upon where you are in life. I had two babies under two years old and I just decided that my mental health wasn't worth sacrificing for the benefits of continuing in the industry. What's your take? Think it through because at multiple points in the process, there is going to be pain inflicted and the ones who make it are the ones who can bear through it.
By the way, if you were searching for answers on how to become a financial planner, most of this advice would also apply. The jobs are closely related and there is overlap. I've included a financial planner definition, the definition of a financial advisor, and discussed the differences between financial advisors and financial planners in other articles.
#2 Figure out what standard of care you want to offer
This is a bigger deal that most people realize when they are contemplating how to become a financial advisor. There are basically two regulatory bodies that you would fall under; either being an Investment Advisor Rep under the state or SEC, or being a registered broker-dealer rep under FINRA. A licensed insurance agent is regulated by the state insurance commission for the domicile in which you are operating, and such agents are paid through commissions.
You might be able to be both if you want to dual register. This article talks about fee-only vs fee-based financial advisors.
The key difference is that pure fee-only advisors are pure fiduciaries and the other types of advisors aren't. Fee-only advisors earn fees (a percentage of assets under management) while other type of advisors may be compensated through commissions. It is argued that fee-only advisors are obligated to operate in the client's best interests while other types don't, and thus it is believed that fiduciaries offer a higher standard of care to the client.
Whatever you do, don't do one of those brokerage, wirehouse, or insurance company training programs.
When people are looking to pursue the financial advisor career option, they're often persuaded to join broker-dealer or insurance programs that to be frank are exploitative. These jobs are easier to get; they're always recruiting and the bar is set very low. Many offer a modest base salary which is appealing to some. However the turnover is quite high.
You will also need to decide:
What types of fee, specifically, you want to charge. The options are: AUM fees, retainer fees, commissions, flat fees, and hourly fees.
If flat fee, hourly, or advice only planning is of interest, consider joining the Transparent Advisor Movement. Learn more about it in this video:
There are pros and cons to all of this, and the discussion goes beyond the scope of this article.
However is it something you should heavily consider and spend a lot of time thinking about, because it will impact how stringently you are regulated, how you are paid, and in some cases will deter people from wanting to do business with you.
Talk to all types of advisors and think hard before moving on from this step.
#3 Get a killer value prop
Nobody says this, but I'm going to say it very clearly.
The competition is so suffocating thick in this industry that if you don't have a value proposition that will choke a horse, you will be the horse that gets choked.

-Sara G
There. I said it.
Without offering something really different, it becomes a popularity contest and you'll be the financial advisor at the Saturday soccer game handing out your business card. You want people to seek you out and come to you. When you are the one who has to be on the prowl, it becomes a gruesome and gut-wrenching exercise.
In this article I detail some of the ways you could set yourself apart so that you can start out as a financial advisor without eating cat food.
#4 G­et some credentials
The most common financial advisor certification is to get is the CFP designation. You really don't have to be that smart to get it. Other useful credentials are the CFA and the CPA, however you have to be smarter and actually be able to do math.
You'll also have to fulfill your financial advisor licensing obligations depending upon who regulates you (see step #2). This may be the Series 7 or other FINRA exams, as well as any insurance licensing. The Series 7 isn't hard but make sure you do a good job on the Series 7 practice exam right before you take it. To have a career as a financial advisor, there are no real financial advisor licensing requirements other than those mandated by the regulators.
There are a bunch of financial advisor certifications but many of them are BS and I'm not even going to list them here. As I said, the only financial advisor requirements are the basic licenses required by the regulators. That's why there are so many bozos in the industry, because the barriers to entry are that low.
#5 Hustle like the dickens
Yeah. I'm not gonna lie; it's a straight up hustle for the first 3-5 years.
I'm going to tell you straight up that I'm biased because LinkedIn marketing for financial advisors is what I do for a living. But I firmly believe that if you are good with using the internet, LinkedIn is the best way for financial advisors to meet wealthy clients online. The reason is that there is no other platform that exists where more educated professionals are actively networking at any given moment.
I also recommend writing blogs on Google, but this requires a website and the ability to get long form content passed through compliance, which may not be possible for many financial advisors who are under strict compliance controls.
There's a whole strategy to LinkedIn marketing and of course it shouldn't be your only marketing game in town. On my podcast about financial advisor marketing I discuss a variety of ways to meet clients online and in other ways so maybe you should start there.
Bonus tip: get a mentor
There are alot of industry groups like the FPA and others where you can get financial advisor career support from peers. But let's be real – you want to model yourself after someone who's really made not, not someone who is kinda figuring it out like you are. Also these organizations can be a little bit about acting like a sorority/fraternity and virtue signaling on social media.
Get a mentor, a good solid one who built his or her business the way you would want to build yours, and shares similar values as a person/professional. If you have to pay, then pay (if you think it's the right person and you will get a positive ROI on the investment).
Sara's upshot on how to become a financial advisor
What'd ya think? Was this helpful?
If yes…
Consider joining the Transparent Advisor Movement if you feel aligned with its values of dignity, transparency, clarity, doing the right thing, and client advocacy.
Learn what to say to prospects on social media messenger apps without sounding like a washing machine salesperson. This e-book contains 47 financial advisor LinkedIn messages, sequences, and scripts, and they are all two sentences or less.
You could also consider my financial advisor social media membership which teaches financial advisors how to get new clients and leads from LinkedIn.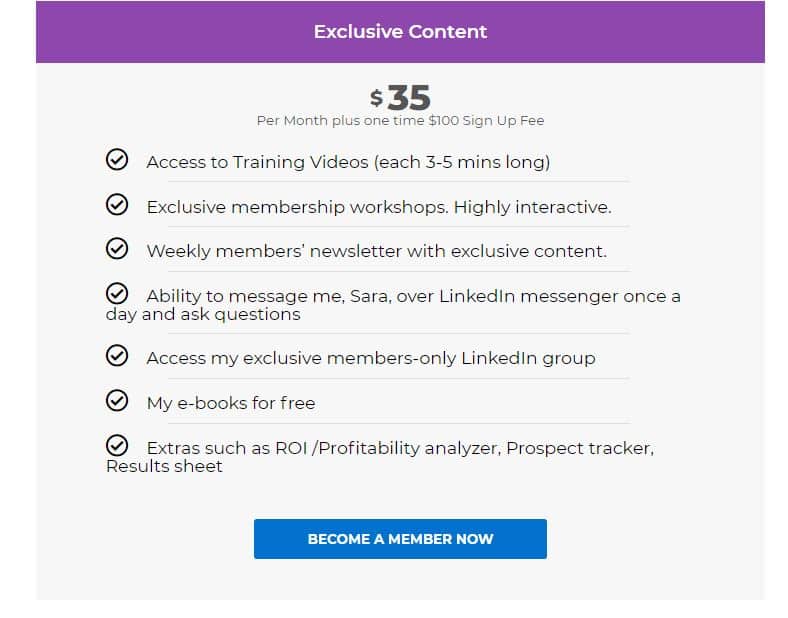 Thanks for reading. I hope you'll at least join my weekly newsletter about financial advisor lead generation.
See you in the next one!
-Sara G