Podcast: Play in new window | Download
Subscribe: Stitcher | Email | RSS
Does the emergence of new technologies such as TAMPS and roboadvisors have to mean a deflated revenue stream for financial advisors? Not necessarily. In this podcast we'll talk about if the 1% financial advisor fee is dead and gone, and if flat fee TAMPS are going to take over the industry in time.
For those of you who are new to my blog/podcast, my name is Sara. I am a CFA® charterholder and financial advisor marketing consultant. I have a weekly newsletter in which I talk about financial advisor lead generation topics which is best described as "fun and irreverent." So please subscribe!
Will financial advisors still be able to charge 1% fees?
Join me and my guest Scott MacKillop of First Ascent Asset Management, a flat fee TAMP, as we discuss the new model for managing assets and how advisors can make it work for them without becoming poverty stricken.
Let's go!
[1:28] What Scott is working on nowadays – outsourced portfolio management services on a flat fee basis. The cost is $500 per year per account regardless of size. Households capped at $1,000.
[2:26] Scott's motivation for introducing flat fees to the asset management world.
[3:33] How operationally does this flat fee model work? Similar to a roboadvisor, the technology is very advanced (paperless account set up, etc.) This is a tremendous benefit to an advisor.
[5:10] The gripes/fears that advisors tend to have about a flat fee investment management model like this. Concerns over service quality, etc.
[6:50] The dim outlook for 1% AUM fee and why flat fees, hourly fees, and subscription fees are becoming the norm not just for investment management but also for the other services that advisors provide (planning, etc.)
[8:23] The underestimation that many people have about how far you can actually scale a business using technology.
[9:50] What a flat fee TAMP is and how it is different from others.
[11:14] How using technology such as this will free up time for advisors to market their firm, contact prospects, fill up the pipeline.
[12:24] Why a TAMP isn't only good for small portfolios, contrary to what many advisors believe.
[13:03] Why the days of financial advisors charging 1% for a large portfolio that is not complex and is "easy money" for the advisors are vulnerable accounts now for advisors. Advisors should use this TAMP technology as an opportunity to say, "I can save you $40k a year" and decrease even the internal expense ratios within that portfolio.
Advisors will have to work harder to earn that $40k back in fees, but the reality is that if you don't make this move then somebody else will. Create a relationship with a TAMP or robo and save the client fees (then find a way to earn it back by providing higher value) or the relationship is going to inevitably leave you.
How long do you think you are going to be able to charge 10x more? How long is this really going to last?
Clients care about all in fees and they like it when you're not too mongering about your fees. Reduce total wealth management fees by providing a lower cost investment management solution whose quality is just as good, and then earn the value back by offering more to clients.
Or else the account is going to be leaving you!
[17:40] How does a TAMP differ from a roboadvisor? Both are low cost technology solutions. How do you pick one over the other?
[19:10] What the fact that many robos have not been through a recession yet means for the robo service model. For example, in a market downturn, are you really going to be happy with a robo suspending trading on your client accounts with no handholding or client service or explanation of why or what is really going on?
[21:35] How does a TAMP interact with advisors? What is their experience likely to be at a firm like Scott's?
[23:50] Fun advisor questions Sara gets Scott's perspectives on. Should advisors have a beard? How can advisors drive leads using your car? How can you use your dog or cat as a marketing tool?
[31:00] Bad sales training that advisors should ignore or delete from their memory.
Sara's upshot on flat fee TAMPs
What'd ya think on my blog on flat fee TAMPs? Was this helpful?
If yes…
Learn what to say to prospects on social media messenger apps without sounding like a washing machine salesperson. This e-book contains 47 financial advisor LinkedIn messages, sequences, and scripts, and they are all two sentences or less.
You could also consider my financial advisor social media membership which teaches financial advisors how to get new clients and leads from LinkedIn.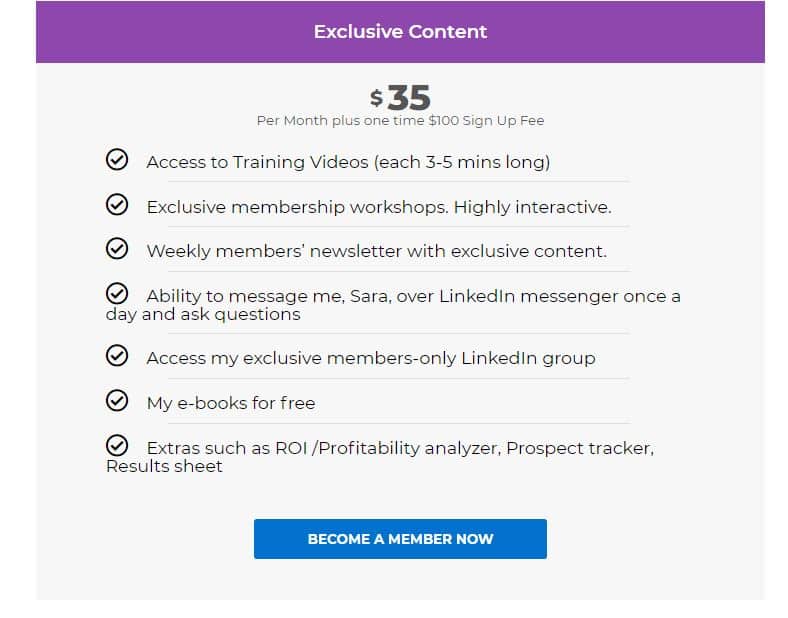 Thanks for reading. I hope you'll at least join my weekly newsletter about financial advisor lead generation.
See you in the next one!
-Sara G