Podcast: Play in new window | Download
Medicare may seem like a straightforward type of thing – it's a government benefit that you just file for, right, how hard can it be? Well, not if you make mistakes. Today I've got Joanne Giardini-Russell to talk about why transitioning to Medicare is a big deal and how to help your clients avoid the common Medicare mistakes.
We'll discuss:
Why is Medicare even important to talk about? Might sound like a dumb question but let's talk about why it's actually a pretty big deal.
Discuss the industry and the confusion that exists. These folks are getting older and their healthcare is suddenly far more complex in retirement – just when they'll be needing it.
Why should the consumer pay attention and learn about Medicare? Discuss the mistakes made when choosing their coverage, common situations – again, all looping back to "why it's a big deal to look at"
How can the FA help their clients in this area? A good referral. It makes them look good and helps the clients.
The impact of their healthcare choices on their financial plan – healthcare is a large line item.
How do people get help?
For those of you who are new to my blog, my name is Sara. I am a CFA® charterholder and financial advisor marketing consultant. I have a newsletter in which I talk about financial advisor lead generation topics which is best described as "fun and irreverent."
The confusion on Medicare is INTENTIONAL
Just turn the TV on and listen to some commercials for Medicare. There are Joe Namath and other celebrities like William Shatner all over the screen, hawking these products. A lot of it is intentionally designed to confuse and get people to dial into the call centers where they can be hawked some deal.
So why all the confusion?
Part of it is the consumer mindset. If people have been working for 40 or 50 years before they retire, they're used to buying insurance through their employer. The ACA protects you from being excluded due to pre-existing conditions. The employer provides you with two or three options and if you screw up the consequences aren't that dire.
This is the first time that most people are charged with the task of having to figure out the rules of health insurance, and how Medicare works.
What type of plan you want
The rules of Medicare
How much it all costs and what works best given your budget
Unfortunately, many Medicare mistakes can not be fixed if you don't make the right decisions upfront.
Medicare drug plan mistakes
Insurance carriers make a ton of dough off people who make mistakes when selecting a Medicare drug plan. People hate having to evaluate their drug plans, so often they don't do it. A very low percentage of people actually change their drug plans every year. As a result, they often overlook cheaper options that are available to them.
People shut down because they don't want to deal with it, but it's a very costly mistake that many Medicare participants are making.
People don't realize that Medicare Advantage sucks (in some cases)
Medicare Advantage is one of the two choices that people have. There are two types of products that people can pick from when choosing a Medicare plan.
A true Medicare supplement: For a premium you are given an expanded list of doctors.
MedicareAdvantage: There is no premium charged, but the choice of doctors can be very limited, prior authorizations are required, and services easily get denied.
People tend to throw up their hands and call the first 800 number they see on commercials, postcards, and mailers. They are led directly into the jaws of Medicare Advantage. It's very easy to sell someone a premium-free medical plan when they are healthy but when the issues hit it can be a nightmare.
All of this underscores the need for prudent advice about Medicare. It's so easy to make a mistake and it can cost you time and money.
Medicare Resources
There is a tremendous need for advocacy to protect the American consumer from Medicare mistakes.
Here are some resources you can call on to learn about Medicare.
Sara's upshot
I am a consumer advocate and I periodically blog about financial products and services so that consumers can avoid being taken advantage of by the financial services industry.
Please subscribe to my newsletter (free newsletter) to receive updates that raise awareness of consumer financial issues, so you can avoid being taken advantage of by shenanigans.
If you're a financial advisor…
The Transparent Advisor Movement's mission is to promote ideals of clarity, modesty, integrity, dignity, and client advocacy in all aspects of financial advice, with a special focus on Advice Only, Flat Fee, and Hourly service models. There is a special emphasis on clear disclosure of services and their related fees.
The Transparency Movement is the future of the industry – we welcome anyone who believes in our values to join us.
Join our next Transparent Advisor virtual meetup.
These meetups are free and the goal is to learn from each other about how to grow and manage a transparent practice for the benefit of clients.
Even if you can not make the meetup, or even attend in its entirety, please register for the replay and to be notified of the next one.
For marketing tips in the transparency age…
Learn what to say to prospects on social media messenger apps without sounding like a washing machine salesperson. This e-book contains 47 financial advisor LinkedIn messages, sequences, and scripts, and they are all two sentences or less.
You could also consider this LinkedIn training program which teaches financial advisors how to get new clients and leads from LinkedIn.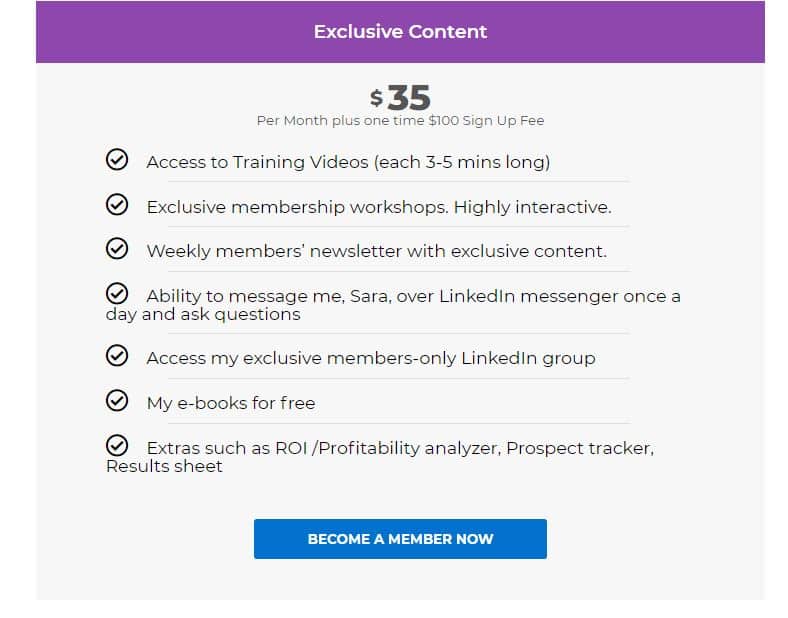 Thanks for reading. If you are a financial advisor reading this, I hope you'll at least join my weekly newsletter about financial advisor lead generation.
See you in the next one!
-Sara G
Disclosures
Grillo Investment Management, LLC does not guarantee any specific level of performance, the success of any strategy that Grillo Investment Management, LLC may use, or the success of any program. Nothing in these materials may be construed as an investment, insurance, or financial recommendation. For such a recommendation, consult with a financial advisor.
Grillo Investment Management, LLC will strive to maintain current information however it may become out of date. Grillo Investment Management, LLC is under no obligation to advise users of subsequent changes to statements or information contained herein. This information is general in nature; for specific advice applicable to your current situation please contact a consultant or advisor. Opinions stated by third parties may not be correct and do not reflect the views of Grillo Investment Management, LLC. Grillo Investment Management, LLC may not be held accountable for any statements made by third parties.