For those looking to crack in and get a job at an RIA firm and become a financial advisor – good news! There are better options than entering a predatory insurance or wirehouse training program and crossing your fingers (which is an AWFUL idea, by the way). In this blog, I interview paraplanning professionals to get their take on what the role is, what it pays, and what it potential is for someone who wants to get a job as a financial paraplanner, possibly as a stepping stone to other wealth management jobs.
For those of you who are new to my blog/podcast, my name is Sara. I am a CFA® charterholder and I used to be a financial advisor. I have a weekly newsletter in which I talk about financial advisor lead generation topics which is best described as "fun and irreverent." So please subscribe!
Before we get started, I wanted to give hanks to Jonathan Grannick of Wonder Wealth, as well as other financial planners for their input.
And I wanted to define some key terms first.
RIA firm – a Registered Investment Advisor firm registered with either the SEC or state regulators. An RIA firm's financial advisors must follow the fiduciary standard which is believed to be the highest standard of care in the industry.
Fee-only advisor – This is an advisor that does not charge commissions and hence is believed to be more aligned with the client's best interests. Fee-only advisors are bound to the fiduciary standard.
What is a financial paraplanner?
A financial paraplanner is a junior wealth management professional who supports the research, operations, and client service activities of a financial planner. The job responsibilities may be back-office or client-facing, depending on the scope of the paraplanner's work.
The list of financial paraplanner job responsibilities may include, but are not limited to:
Entering data into financial planning software
Preparing deliverables when assisting with financial plan preparation
Interacting with clients to perform ancillary functions such as data gathering
Helping financial planners with tax return preparation
Helping financial planners with tax planning for their clients
Organizing the onboarding process for new clients
Conducting data gathering for the update meeting process
Organize files and file structures
Retitling documents
Scanning for missing information in documents
Running projections in financial planning software
Creating financial plan deliverables
Modeling financial scenarios
What designations does a paraplanner usually have?
Paraplanners can also hold various designations such as the CFP® certification, ChFC, Enrolled Agent, CPA, etc. Many hold the FPQP (Financial Planner Qualified Professional) designation, although it is believed by some to fall short of imparting the skills to make a true paraplanner.
How do you get a job as a financial paraplanner?
Financial paraplanners can be recent college graduates with no work experience, or may also be career changers with an extensive background in other areas that can add more value to an RIA owner, such as tax professionals.
For Jonathan Grannick, his first job as a financial paraplanner he found on the University of Georgia student Financial Planning Association listserv. In addition to that, he cold called 100-150 financial planning companies around Atlanta looking for a paraplanning role but these fee-only RIA firms (what he wanted) were small and hired very infrequently. This was in 2011 when remote work wasn't yet popular, so he was limited to the city where he lived.
Jonathan then decided to make a business out of it! He cold called over 500 financial planning companies over a year or so to get to a full book of clients. He never had more than five paraplanning clients at a time. His goal was to have fewer clients that he could serve at a higher level as to avoid spreading himself too thin.
IMPORTANT POINT: What made Jonathan not feel he had to accept a position in a predatory and disgusting insurance or wirehouse training program (which you should NOT do, by the way)?
Jonathan spoke with Swarn Chatterjee, a UGA professor who reassured him that he could do real financial planning work and make better money working for a fee-only firm than by going into one of those insurance sales jobs.
He knew before graduating fee-only was the path for him, his conscience, and his personality. He almost took a job with a state farm agency selling insurance, and is so glad he didn't. According to Jonatha, there is nothing worse than that "in-between" time after you've graduated, living at home with your parents, but you don't yet have a job. But, he says, desperation to get something going can lead you to snag the wrong opportunity that can really derail your career or lead you to waste years in a job that wasn't a good fit. He was disciplined and held out for a position at fee-only firm.
So why aren't there more people doing this?
There is unmet demand for financial paraplanners. If you could hire someone for $60/hour to do busy work you don't enjoy when your hourly rate as a financial planner is $250/hour, would you do it?
Financial advisors don't always know where to find paraplanners or how to best leverage one. Moreover they have concerns around delegating (i.e. giving up power/control of "their baby").
If you are looking for a paraplanner job, you could use the following job boards or recruiting companies:
New Planner Recruiting
LinkedIn Jobs
CFP Board Career Center
FPA
NAPFA (best for finding jobs with fee-only RIAs)
XY Planning Network
Indeed, Glassdoor, or other job boards
LinkedIn networking, cold calls, in person networking (yup, the old-fashioned way)
Any range for what these jobs usually pay?
On a 1099 basis, the starting hourly pay for a financial paraplanner should be $35 – $50 per hour depending upon the services performed. One source interviewed for this article feels that a CFP® certificant who is a virtual paraplanner shouldn't be charging less than $75/hour, which may then scale up with experience. Those who work on 1099 should aim for a workflow that allows them to bill at least 5 hours a day.
It is hard to say what a financial paraplanner salary would be for a W2 job. As always, it depends upon experience. It would not be surprising to see positions for candidates with intermediate to advanced levels of experience commanding a starting salary of $70k or more.
How to get a job as a paraplanner
It may be harder in the beginning to go the RIA route but starting off on the right foot will bring rewards with time.
If you are looking for your first job in wealth management, follow these steps to get a job at an RIA firm, preferably as a paraplanner, and avoid the predatory wirehouse/insurance "training" programs:
Get a mentor
Learn the tax code
Become an enrolled agent of the IRS
Volunteer with a non profit to help people with their tax returns
Get a financial planner mentor
Join your local FPA
Read the US Master Tax Guide, comes out once a year
Follow Tax Industry news page on The TaxBook website
Follow the CFP Board, FPA, and AICPA on social media
Follow #taxtwitter thread on Twitter
Look at Volunteer Income Tax Assistance (VITA) in universities and community centers
Use LinkedIn to arrange 3-4 informal networking meetings a month with financial planners in your area
Start a blog about financial planning tips for your peers – and if you don't have the knowledge to write a blog on this, get it
Volunteer to review the tax returns of your family and friends to get practice
Volunteer to do a free financial plan for your family and friends to get practice
Allow 6-9 months to get a job at an RIA Firm and get a part time job, or maybe 2 or 3, to support yourself in the meantime
Get a support group of 3-5 people your age who are aiming for the same goal as you
Shun anyone who discourages you from pursing the right path
Paraplanner educational resources
Financial planning is closely related to tax planning. It would be a major benefit to anyone looking to become a paraplanner if you could study and learn how the tax system in this country works. Here are some resources:
AICPA Tax Advisor Journal
Enrolled Agent learning/designation
CEPA – Certified Exit Planning Advisor
CPWA – Certified Private Wealth Advisor
US Master Tax Guide – Comes out yearly and includes tax code cites
The TaxBook
PPC Guides
Parker Tax Library
Surgent CPE
Kiplinger Tax Letter – usually easier to read/digest
AICPA Engage has a big slice that's focused on the intersection of financial & tax planning
If you want to be effective in doing tax work, knowledge of these systems will help:
Holistiplan
BNA – Bloomberg Income Tax Planner
Planner CS
https://lnkd.in/gD-24d-T
MyStockOptions (MSO)
TaxPlan IQ
Corvee–
Intuit Tax Advisor – Best for those using ProConnect
What's the next step after doing this work for a few years?
After being a financial paraplanner for a while and mastering the technical and interpersonal skills necessary, you could pursue a role as a junior financial advisor. As a junior financial advisor, you'd be more involved with clients. In that role you may be tasked with some of the sales prep work but would unlikely be responsible for finding new clients – this is something you'd take on once you become a senior financial advisor building your own practice.
Sara's upshot on being a financial paraplanner
What'd ya think of my blog on financial advisor fees? Was this helpful?
If yes…
Join the Transparency Advisor Movement.
The Transparent Advisor Movement's mission is to promote ideals of clarity, modesty, integrity, dignity, and client advocacy in all aspects of financial advice, with a special focus on Advice Only, Flat Fee, and Hourly service models. There is a special emphasis on clear disclosure of services and their related fees.
The Transparency Movement is the future of the industry – we welcome anyone who believes in our values to join us.
Join our next Transparent Advisor virtual meetup.
These meetups are free and the goal is to learn from each other about how to grow and manage a transparent practice for the benefit of clients.
Even if you can not make the meetup, or even attend in its entirety, please register for the replay and to be notified of the next one.
For marketing tips in the transparency age…
Learn what to say to prospects on social media messenger apps without sounding like a washing machine salesperson. This e-book contains 47 financial advisor LinkedIn messages, sequences, and scripts, and they are all two sentences or less.
You could also consider my financial advisor social media membership which teaches financial advisors how to get new clients and leads from LinkedIn.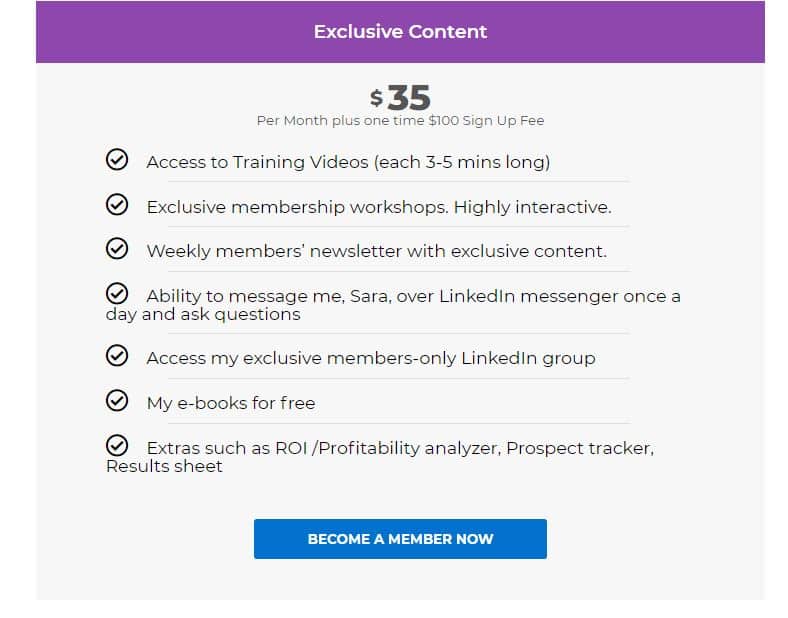 Thanks for reading. I hope you'll at least join my weekly newsletter about financial advisor lead generation.
See you in the next one!
-Sara G
Disclosures
Grillo Investment Management, LLC does not guarantee any specific level of performance, the success of any strategy that Grillo Investment Management, LLC may use or mention in any of its content, or the success of any program it may mention in any of its content. Grillo Investment Management, LLC will strive to maintain current information however it may become out of date. Grillo Investment Management, LLC is under no obligation to advise users of subsequent changes to statements or information contained herein. This information is general in nature; for specific advice applicable to your current situation please contact a consultant or advisor. I want to be clear that nothing in this podcast or blog can be interpreted as an investment recommendation of any type. The opinions expressed herein do not necessarily represent the views of Sara Grillo or Grillo Investment Management, LLC. Also, nothing in this podcast or blog can be interpreted as legal or compliance advice. For advise on such matters, contact a legal or compliance advisor. Any similarities to persons deceased or alive are entirely coincidental.