Podcast: Play in new window | Download
Subscribe: Stitcher | Email | RSS
In this savage, take-no-prisoners debate, Igor Smolyanskiy, Michael Kotarinos, Scott Salaske and I debate whether or not direct indexing is worth it. Pull up a chair and get ready to rumble!
But first!
For those of you who are new to my blog, my name is Sara. I am a CFA® charterholder and financial advisor marketing consultant. I have a newsletter in which I talk about financial advisor lead generation topics which is best described as "fun and irreverent." So please subscribe!
A debate on the pros and cons of direct indexing
Before we get into the debate, I just want to openly state that I think direct indexing is not worth it. Scott Salaske and I discuss this in pod/blog on the topic, entitled, "Direct indexing sucks."
However, being a diplomatic and fair person, I am willing to hold my opinions in check and debate the topic. Now for the feature presentation.
In this podcast we don't discuss the basics of direct indexing or talk about any of the direct indexing providers per se, but instead we focus on how to apply it to client portfolio management. I heard from three financial advisors on this subject.
I'm very grateful to all of these guests for participating in this savage debate and for not allowing my highly opinionated comments to frustrate them.
Now let the savage debate begin!
What is direct indexing?
Igor defines direct indexing as:
An attempt to replicate performance of an index by purchasing a representative individual sample of securities that make up that index.
The key benefits derived are:
Tax optimization
Portfolio customization
What are the benefits to clients of direct indexing? What problems does direct indexing solve?
Michael feels direct indexing is a way to build a personalized portfolio that can match an investor's unique preferences in a way that is computationally feasible because traditional approaches, such as software, will not work.
Scott argues that in 20 years he has never seen a client who wanted a personalized portfolio, and that direct indexing is not worth it because you can build customized portfolios with ETFs and index funds, without needing some complicated direct indexing strategy.
So this was a point of debate to begin with. What do you think? Do investors want a customized portfolio from their advisors? Is that what they are paying money for?
Should you hire a direct indexing provider, or do it yourself?
Michael says that if you have the right tech stack, you can do it yourself instead of having to hire a direct indexing provider such as Charles Schwab, Fidelity, Vanguard, etc. which may range in some cases from 20 to 60 basis points, often passed on to the client. Scott feels these fees are too high.
What do you think?
Is it acceptable to pass on fees for direct indexing to clients, or should the advisor absorb those fees and pay out of their own fees if hiring a third party direct indexing provider?
When should a financial advisor think about direct indexing for his or her clients?
Michael gives the example of when a client comes to you and says, "I don't want large cap stock XYZ in my portfolio. A lot of the low cost ETFs contain large cap stocks like stock XYZ."
He makes the point that direct indexing will not work for all clients, but it will work for some. It is useful for clients with very complex needs, or who have restrictions that impact what you can and can not hold for them.
For a small account, let's say $100,000, it may not be worth it to carry out direct indexing because you may not be able to properly do so. You wouldn't be able to have a high quantity of holdings, replicating an index, for that amount of portfolio assets.
What do you think?
Have you gone forward with any direct indexing for your clients? Have any of them asked you for it?
Would you bring it up if the client didn't suggest it?
When do you feel it is appropriate for a financial advisor to use direct indexing for clients??
So what did we agree on? Anything at all?
Not much, in this debate. However there was one thing.
We all agree that direct indexing is oversold. It is pushed out onto advisors and the investing public by Wall Street. It is not suitable for many clients, but may be right for a select few and when it is, it should be carried out in a fully transparent and prudent fashion on the client's behalf.
Sara's upshot on whether or not direct indexing is worth it
What'd ya think of my blog and podcast debate on whether or not debate indexing is worth it? Was this helpful?
If yes…
Join the Transparency Advisor Movement.
The Transparent Advisor Movement's mission is to promote ideals of clarity, modesty, integrity, dignity, and client advocacy in all aspects of financial advice, with a special focus on Advice Only, Flat Fee, and Hourly service models. There is a special emphasis on clear disclosure of services and their related fees.
The Transparency Movement is the future of the industry – we welcome anyone who believes in our values to join us.
Join our next Transparent Advisor virtual meetup.
These meetups are free and the goal is to learn from each other about how to grow and manage a transparent practice for the benefit of clients.
Even if you can not make the meetup, or even attend in its entirety, please register for the replay and to be notified of the next one.
Learn what to say to prospects on social media messenger apps without sounding like a washing machine salesperson. This e-book contains 47 financial advisor LinkedIn messages, sequences, and scripts, and they are all two sentences or less.
You could also consider my financial advisor social media membership which teaches financial advisors how to get new clients and leads from LinkedIn.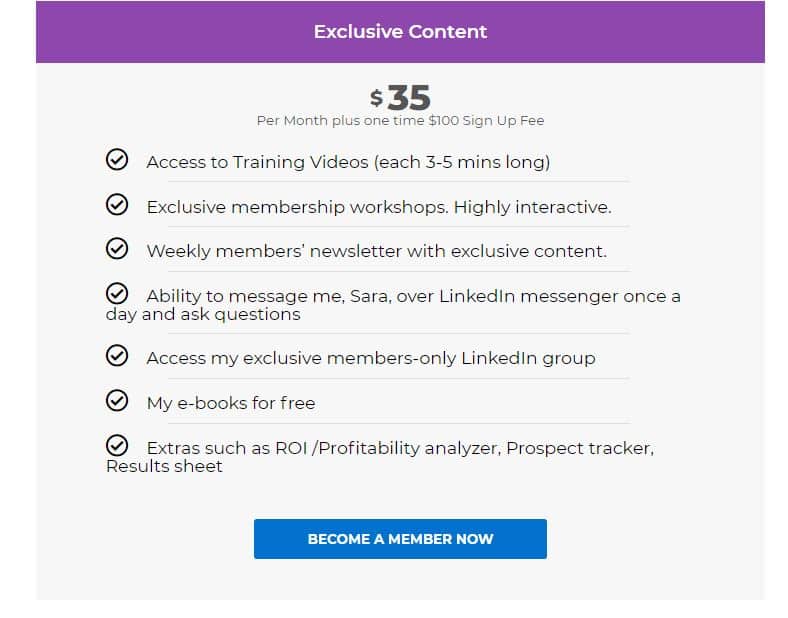 Thanks for reading. I hope you'll at least join my newsletter about financial advisor lead generation.
See you in the next one!
-Sara G
Disclaimers
Grillo Investment Management, LLC does not guarantee any specific level of performance, the success of any strategy that Grillo Investment Management, LLC may use, or the success of any program.
Grillo Investment Management, LLC will strive to maintain current information however it may become out of date. Grillo Investment Management, LLC is under no obligation to advise users of subsequent changes to statements or information contained herein. This information is general in nature; for specific advice applicable to your current situation please contact a consultant or advisor.