Here are three tips regarding financial advisor LinkedIn strategy for 2023. And let me tell you, they are smoking hot! And with that whoo hooo-worthy sentiment, let's get into it.
For those of you who are new to my blog/podcast, my name is Sara. Currently, I am a CFA® charterholder and I used to be a financial advisor. I have a weekly newsletter in which I talk about financial advisor lead generation topics which is best described as "fun and irreverent." So please subscribe!
Before we get started, I want to be very clear that I do not work for LinkedIn, and I did not program the algorithm. The algorithm could change at any time, and there is no way of knowing that what I am seeing now is going to be that way in the future, or that my views are even accurate in terms of what LinkedIn decides to serve up in the feed.
Podcast: Play in new window | Download
So having said that, let's get on with the blog.
#1 Text-only postings
As you financial advisors work on your LinkedIn strategy for 2023, know this. I'm seeing text-only postings of 150 -200 characters (almost like tweets) or fewer doing really well. I've had really good success with this, I've seen financial advisors on LinkedIn do well with this, and others.
The reason these posts are so powerful is that it's the force of brevity. People's blood pressure goes down when they realize you're not going to make them scroll, read at length, and have to do mental gymnastics to figure out the point of what you are saying.
Say it, make a strong point that teaches them something in 200 characters or less, and then shut up and let them comment back.
Minimalism works on LinkedIn, if you do it right.
Check out Dan Price, the founder of Gravity Payments. Here is a LinkedIn post he wrote:
He states an observation and then states the action step that he sees as a logical result of that. Political views aside, you have to admit it's great communication – and as the results show, the algorithm rewarded him.
#2 Pull quote images
Here is why I think pull quote images should be a part of LinkedIn strategy in 2023 for financial advisors.
What alot of you typically do is spend alllllll this time writing a fabulous blog about inflation or the Fed or whatever, and then you dump it onto LinkedIn, get three likes, and call it a day.
It's wasteful.
Why not reuse and recycle that blog?
Pull out the most powerful quote, and post it. Simply open Canva, copy and paste the one line quote, add a funny emoji or symbol, and let it fly with a link to the blog.
It's so much better if it appears homemade. People are tired of these shiny, super-polished, corporate-ish looking posts. F that. You don't need an expensive graphic designer.
I just did a quote post about SEC Commissioner Hester Peirce's quote about crypto. Not the best posting to be honest, but my kids have been sick and last week things were a bit hectic. I apologize but with the Rona virus things have been touch and go here.
Like we conservationists say, reduce, reuse, and recycle. You really don't need to spend a ton of time and money to do well; you need to do it the right way. Short and punchy as heck, people love that more than these elaborate videos or blogs in LinkedIn publisher. I don't think people really are going to sit down and sift through your content unless it's really humorous and engaging, and most of the time for y'all, it isn't.
#3 Look for the little face in LI messenger
I think it depends upon if the recipient has certain setting enabled in LinkedIn messenger, but when you send someone a LinkedIn message sometimes you can see if they have read it or not.
Look for a little tiny profile picture, usually their headshot, in the lower right hand corner of the message you sent. If you see one, they read it. It can also be a little gray check mark.
Now, how do you financial advisors use this as part of your LinkedIn strategy for 2023? If someone is reading your messages but not responding, you might be doing something wrong. Read my e-book 47 Financial Advisor LinkedIn messages or consider joining my membership about social media strategy if you are done trying to figure it our for yourself.
Sara's upshot on financial advisor LinkedIn strategy for 2023
What'd ya think? Was this helpful?
If yes…
Learn what to say to prospects on social media messenger apps without sounding like a washing machine salesperson. This e-book contains 47 financial advisor LinkedIn messages, sequences, and scripts, and they are all two sentences or less.
You could also consider my financial advisor social media membership which teaches financial advisors how to get new clients and leads from LinkedIn.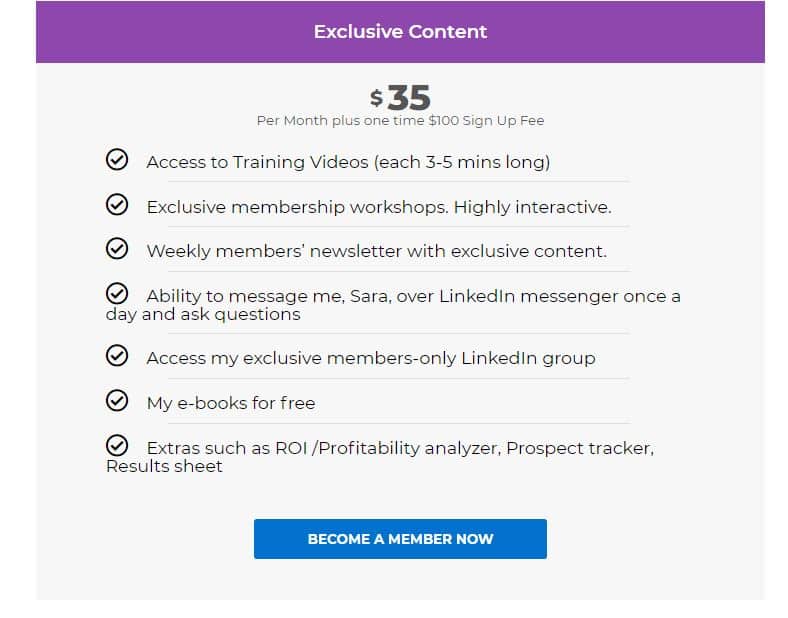 Thanks for reading. I hope you'll at least join my weekly newsletter about financial advisor lead generation.
See you in the next one!
-Sara G
Music is Nice to You by the Vibe Tracks
Sources
Dan Price. (January 4th, 2020) [Post]. LinkedIn. Retrieved on January 10th, 2022 from https://www.linkedin.com/posts/danpriceseattle_if-you-work-full-time-at-the-federal-minimum-activity-6884058199163568128-Ia0N