I asked financial advisors what books they like to read, and this is how they responded. Here is a list of the best investing books for 2022 and onwards; financial advisors love these books!
Before we get started, I just wanted to state that I have no financial affiliation with the books mentioned here. This is a financially independent objective analysis; I am not compensated for discussing these books in my blog.
For those of you who are new to my blog/podcast, my name is Sara. I am a CFA® charterholder and I used to be a financial advisor. I have a weekly newsletter in which I talk about financial advisor lead generation topics which is best described as "fun and irreverent." So please subscribe!
Best investing books for financial advisors
#1 Behavioral Investment Counseling by Nick Murray
This was recommended to me by Steve Miller of GeoWealth, a TAMP for RIAs. As much of the stock market is driven by emotions, it is never a waste of time to devote attention to the motivations driving behaviors. As a financial advisor's job is as much psychological as it is technical, and at times when the market is volatile, even more so.
#2 The Lazy Persons Guide to Investing by Paul B. Farrell
An interesting take, and not one that you hear very often which is why we've added this non-typical viewpoint to our list of best investing books.
#3 Psychology of Money by Morgan Housel
I have heard this book mentioned by numerous wealth managers. For the same reasons as stated in #1, the best investing books for a financial advisor to read are the ones that enable them to understand the people they serve. There are many different approaches to doing this, which is why it's great to see this topic occupying numerous places on my financial advisor book list.
Thanks to financial advisor Megan Kopka for tipping me off to this one!
#4 The Investment Answer by Gordon Murray and Daniel Goldie, CFA, CFP
Readers, including both financial advisors are non-financial professionals alike, seem to be raving about this book. There's tremendous value in literature that can lay things out in plain English and that is what many reviews of this piece seem to be saying.
This book was mentioned to me by my friend Ben Barron.
#5 All About Asset Allocation by Richard Ferri
Calling all index fund nerds! Feast your eyes on this one. This was mentioned to me by financial advisor Travis Ford.
#6 Pioneering Portfolio Management by David Swensen
A timeless classic from the late Chief Investment Office of Yale and creator of "The Yale Model." Swensen's other book, Unconventional Success: A Fundamental Approach to Personal Investment, was recommended by Jon Luskin.
#7 Never Split the Difference: Negotiating as if your Life Depended Upon It by Chris Voss and Tahl Raz
Advice on how to navigate highly tense conversations is a skill for all of us to improve upon – not just financial advisors! Thanks, Charles Goldblum.
Are these 100% for sure the best books for financial advisors?
Weeeeell, I dunno. I went by what the financial advisors in my network were so gracious to offer (and to them I am highly appreciative); but of course this is all opinion. There is debate as to what the best financial advisor books really are. I hope these gave you a good starting point at least, and at least a few good ideas about financial planning books and books to read about investing.
In conclusion, I will say that it's important for financial advisors to stay up with the best books on finance and investing in 2022 and beyond (even if these aren't them).
Not only do they need investment books to read for their own good, it's important also for them to have an ear to the ground and know what the best books on stock market investing are. That way, if a client asks for stock market learning books , they know what resources to call upon.
Sara's upshot
What'd ya think? Was this helpful?
If yes…
Learn what to say to prospects on social media messenger apps without sounding like a washing machine salesperson. This e-book contains 47 financial advisor LinkedIn messages, sequences, and scripts, and they are all two sentences or less.
You could also consider my financial advisor social media membership which teaches financial advisors how to get new clients and leads from LinkedIn.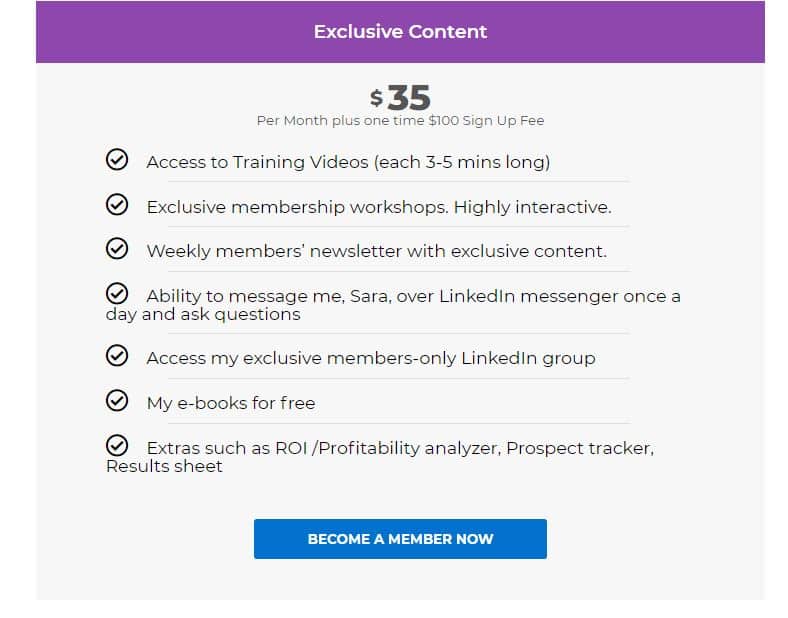 Thanks for reading. I hope you'll at least join my weekly newsletter about financial advisor lead generation.
See you in the next one!
-Sara G
Disclaimers
Grillo Investment Management, LLC does not guarantee any specific level of performance, the success of any strategy that Grillo Investment Management, LLC may use, or the success of any program. Grillo Investment Management, LLC makes no attestations as to the accuracy of the information contained in this review. This review is not an endorsement or a suggestion that any individual should participate or not participate in any of the products or services discussed herein.
Grillo Investment Management, LLC will strive to maintain current information however it may become out of date. Grillo Investment Management, LLC is under no obligation to advise users of subsequent changes to statements or information contained herein. This information is general in nature; for specific advice applicable to your current situation please conduct your own research, and contact a consultant or advisor.