Podcast: Play in new window | Download
What is the best tagline for wealth management? Tally-ho! In this blogpod I'm going to teach you how to create your own savage financial advisor tagline.
For those of you who are new to my blog/podcast, my name is Sara. I am a CFA® charterholder and I used to be a financial advisor. I have a weekly newsletter in which I talk about financial advisor lead generation topics which is best described as "fun and irreverent." So please subscribe!
Let's get on with the blog!
Guess what: you might not even need one!
People overcommunicate. The less said the better.
I truly believe that if you are a good communicator on a one on one basis, whether on LinkedIn or in person, then things are going to happen for you. I think that in life we need to focus more on listening to each other, observing, being perceptive and understanding about others, etc.
However it's always easier to do concrete projects to think of things like taglines and better websites, business cards, etc. But I don't really think they're essential for good communication, unlike what the rest of the marketing community would have you believe!
You might not need a tagline for wealth management in order to market yourself effectively. But if you do decide to use one, here are some tips.
No "tagline thrusting"
I see a great deal of forcing of taglines out there, where financial advisors are flashing their taglines everywhere whether it be on their websites, business cards, social media. I think when you use it this way it makes the whole thing look too promotional.
Most of the time the tagline isn't worth flashing anywhere, because it doesn't really say anything that sets the advisor apart.
"Putting your wealth goals first, all the time."

Well, the client is paying you $12k a year! You might as well!
Or how about this one – "Your needs are our priority."
No kidding!
If it doesn't really differentiate you and/or getting attention, don't bother putting it anywhere. Find something catchy and then have it appear here and there at just the right time, in the right place, to give yourself some memorability.
A tagline for wealth management should not include cliches!
Ya heard me, financial advisors?
Years ago before I started to focus my business on LinkedIn for financial advisors, I had a very eclectic business across various industries such as retail, technology, etc.
I had this one very skeptical prospect, a Subaru dealership, and they wanted me to make them a sample YouTube video pretending I was selling a Subaru. I made the video and to give it some verve, I called myself, "Subaru Sara."
My parents were visiting the weekend I was taping it, and to this day, years and years later, they still remember Subaru Sara. My point is that the tagline doesn't have to make complete sense or go as according to total logic. It's not about the facts you are conveying, or the logic.
If you are intriguing, sometimes that is enough to get their attention and help you be remembered.
Don't be afraid to be a little creative….nobody will die or get hurt…okay?
Guidelines to follow
Here are some tangible guidelines for creating a tagline for wealth management.
One sentence – keep it brief, no more than 4-5 words. This means you'll have to limit the amount of ideas. Simplicity is the best thing; stick to one thought. We don't need to go over your process for setting up an account.
Irony – the most thought-provoking phrases are those that are somewhat confusing.
Curiosity – the point of this isn't to tell everyone how great you are. This is not factual. The point is to make them say, "Sheesh, that's interesting. I need to know more about this."
Exclusivity – use an exclusivity/focus word such as: only, just, solely, exclusively, no more than, not more than, no more of something, not until, or without. This will narrow the audience's focus on one particular thing you do differently.
Non cheesy – don't be tacky. This means you can't use buzzwords like, "goals", "preservation", or "commitment", or "personalized."
Asking a great question works best. Don't you wish everyone used Dial?
How is a tagline different from an elevator pitch?
An elevator pitch is used as a conversation starter; the goal is to get them to respond. Read my blog about financial advisor elevator pitches to learn how to create your own.
With a tagline you want to drop it and shut up; the goal is to get their attention.
Examples of financial advisor taglines
Here are some examples of possible taglines for wealth management firms or advisors.
I only work with the cool tech execs
Solely focused on compassionate vets
Not until there's complete financial clarity
Nobody stays rich by accident
Only advice; no more annuity pitches
Financial advice without the BS
Wouldn't you rather just have a badass retirement?
Exclusively focused on equity-compensated executives
Unstoppably positive attitude
Sara's upshot
What'd ya think? Was this helpful?
If yes…
Learn what to say to prospects on social media messenger apps without sounding like a washing machine salesperson. This e-book contains 47 financial advisor LinkedIn messages, sequences, and scripts, and they are all two sentences or less.
You could also consider my financial advisor social media membership which teaches financial advisors how to get new clients and leads from LinkedIn.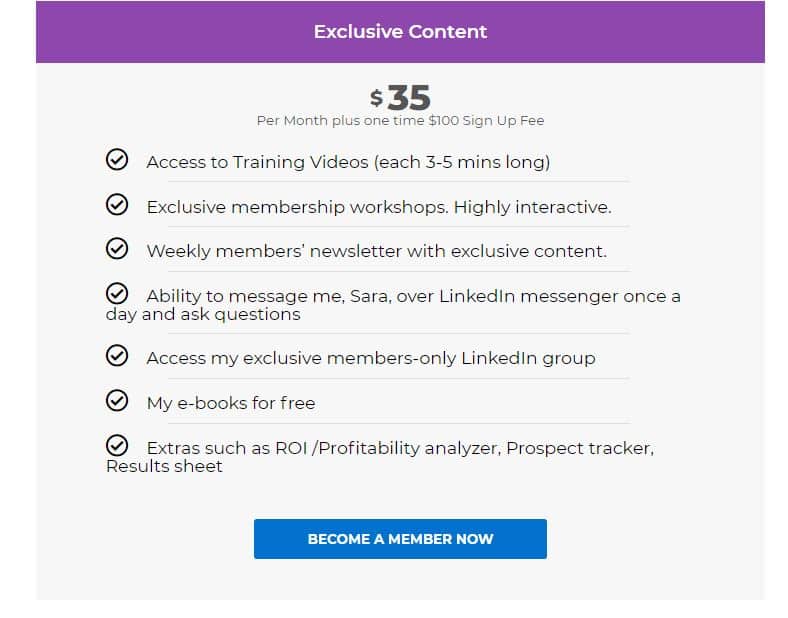 Thanks for reading. I hope you'll at least join my weekly newsletter about financial advisor lead generation.
See you in the next one!
-Sara G
Music is Nice to You by the Vibe Tracks