Podcast: Play in new window | Download
Here are three reasons that appointment setting for financial advisors is crap, and you should probably avoid engaging with these services. It's a lousy way to go; don't do it.
But before we get into it, for those of you who are new to my blog/podcast, my name is Sara. I am a CFA® charterholder and I used to be a financial advisor. I have a weekly newsletter in which I talk about financial advisor lead generation topics which is best described as "fun and irreverent." So please subscribe!
Let's get on with the blog!
#1 It's suuuuuuch marketing
When you hire a third party to go out and set up an appointment for you, the expectations are high on your behalf. You've paid your hard-earned money, and you expect that you're going to get delivered a qualified lead that you can close.
This pressure may be passed on and felt by the prospect whenever you have your first meeting arranged by hiring appointment setting for financial advisors. This is a direct selling situation where the two of you don't know each other and that's never really that comfortable. People put their guards up in situations like that.
#2 Disruptive to the brand
The person who is setting up your appointment isn't necessarily part of your organization. They don't necessary follow your principles. You don't actually know if the kind of prospect you get is reeeeeeeealy going to be "on brand."
It's this random, not really branded kind of an initial engagement, and that usually is pretty hard for the prospect to overcome. It may even be downright confusing to the prospect.
"I was told you could help me manage my retirement portfolio."

"Really? I'm a financial planner."
See what I'm saying? You're kind of giving up control of your brand. Or how about:
"Beth was great. How long has she been a part of your organization?

"Oh no, she's part of an external telemarketing service that we hired."
The prospect is going to see this appointment setter as an extension of you and a reflect of you, whether you like it or not. There's no way this can be a seamless brand experience and that might work against you. You don't know what the marketing company said to get the appointment.
They are marketers, after all!
It's their business to set up appointments. They don't care if you close it, though! The lead being a suitable and qualified lead isn't their priority, it's getting them to agree to the appointment. You'll never really know what they said to get the appointment.
#3 Robs you of the power of your network
I see this all over the place. You established advisors really shouldn't be having a need for this kind of a cold marketing service like one that provides appointment setting for financial advisors. When you have 100 people who are your clients and trust you, and those people have:
Business contacts
Friends
Attorneys
Accountants
Therapists
Realtors
…there are a ton of ways you could lock in and engage more deeply with them. It's a huge opportunity lost if you aren't. You financial advisors make it so much harder than it needs to be by overlooking the greatest marketing strength that you have.
Most of the time when I ask a financial advisor, "are you connected to all of your clients, their kids, and their beneficiaries on social media? Are you sending them a newsletter?" I get back some BS crap like, "My clients don't know how to use a computer."
Ridiculous.
Get your clients tapped into everything you do online. Get them commenting on your LinkedIn posts and sharing your newsletters.
Your clients should be your #1 source of leads, and there are ways to facilitate this using digital marketing. Stop being spoiled brats and do the work.
#4 Meeting a prospect by way of appointment setting for financial advisors provides no social verification
If you are going to go out a hire an appointment setting service for financial advisors, there is no social verification. There is nobody to vouch for you. It is dumping down the toilet what is the number one marketing strength you have; the ability for a client to say to a qualified prospect that you are legit.
In a way, you are taking your own power away and level setting yourself with a new financial advisor who has no clients to vouch for him or her. Why would you do that?
Sara's upshot on appointment setting for financial advisors
What'd ya think? Was this helpful?
If yes…
Learn what to say to prospects on social media messenger apps without sounding like a washing machine salesperson. This e-book contains 47 financial advisor LinkedIn messages, sequences, and scripts, and they are all two sentences or less.
You could also consider my financial advisor social media membership which teaches financial advisors how to get new clients and leads from LinkedIn.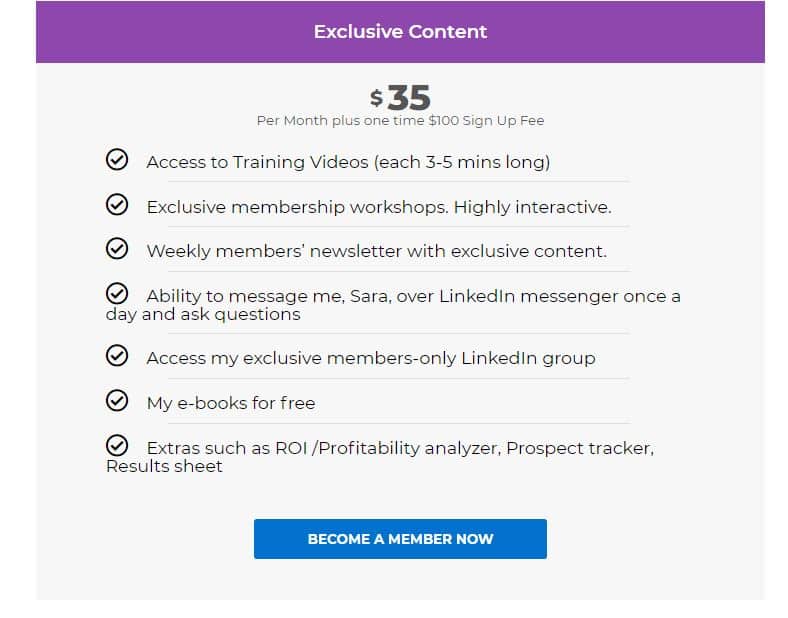 Thanks for reading. I hope you'll at least join my weekly newsletter about financial advisor lead generation.
See you in the next one!
-Sara G
Music is Nice to You by the Vibe Tracks