Podcast: Play in new window | Download
Subscribe: Stitcher | Email | RSS
In the blog below we will discuss how a financial advisor can get leads from LinkedIn. I share five key takeaways from my podcast with Chris Roehm, a financial advisor who has been successful getting new clients using LinkedIn. You will also learn:
Chris's story of how he started to get leads from LinkedIn as a financial advisor
5 ways for financial advisors to increase engagement on their LinkedIn posts
Why comments on your post matter
The voice financial advisors should use in their post's copy on LinkedIn
Good and bad questions for financial advisors to ask in a LinkedIn post
The question to ask yourself before you post
How frequently to post on LinkedIn
For those of you who are new to my blog/podcast, my name is Sara. I am a CFA® charterholder and I used to be a financial advisor. I have a weekly newsletter in which I talk about financial advisor lead generation topics which is best described as "fun and irreverent." So please subscribe!
Let's get on with the blog!
#1 Produce relevant content
You can have the best idea in the world, but if the target audience doesn't care about what you have to say it's worth zero.
Zilch.
Because you won't get any engagement on it.
Chris got into the habit of going home everyday and writing down the most interesting question he solved for one of his clients. He then started answering that question in a 60 or 90 second video, and turning them into LinkedIn posts.
Why did this work?
When the content ideas come from your client base, that means the subject is relevant to the people you want to serve. Some of you are sitting there trying to guess at what people care about. Or you are trying to pretend that you know better than your clients about what is on their minds.
You don't.
You can't guess better than the clients' word about what is on their minds. If you want to know what is going to engage the people you financial advisors want to get as clients on LinkedIn, it's clear as day. But you have to listen and write it down.
Give people what they are looking for!
Chris said that once he started doing this, he started getting engagement on his LinkedIn posts and then the next thing was prospects were calling him for life insurance quotes.
#2 Get the right people in your following
See frame 10:29 in the podcast to hear more about this.
Financial advisors need to have the right connections if you want to get leads from LinkedIn. Chris doesn't know if this data is right, but he has heard it quoted that LinkedIn will serve up everything you post to about 7% of your network. If you have a lot of connections, more people are going to see your content.
There is a huge potential to significantly increase your engagement if you get engagement from high influencers. If you know people who are popular on LinkedIn – who have a lot of followers and get a lot of engagement – it's important to get them commenting. This boosts your content up more than someone who is inactive and has a small following.
#3 Get the right engagement
There are some specific things you can do to increase engagement. The most important thing that increases engagement on LinkedIn is for people to comment on your posts within the first hour after it posts.
Two key things:
Within one hour
Has to be a comment
It's a good idea to create a community of people who will get into the habit of commenting on your posts – and you can do the same. There are other strategies such as engagement pods that we discuss within my membership. The algorithm always changes, and we don't know how the algorithm works, but in our experience this is what we have seen to be effective in getting people's posts boosted up.
Summary: Get good connections who will consume your content and comment upon it within the first hour of posting.
The golden question I ask myself before I post is this:
How do I get the highest level of response as humanly possible for this idea I am going to communicate to people in this post?
Do this every time you post.
#4 The copy in your LinkedIn posting script must be written correctly
There is a science to creating a LinkedIn post that will engage followers. The posting has to be written correctly. I cover the four basic components of a good financial advisor LinkedIn posting script in other blogs.
The goal of the posting should be to get people to engage. However, if you are asking questions, the copy has to be written in a way that will get them to answer. Financial advisors do a lousy job with coming up with the right questions and presenting them correctly.
Example of a bad LinkedIn posting question:
Who knows the top tax bracket for 2021?
Have you ever considered taking a loan from your insurance policy?
Nobody is going to answer back because nobody really wants to talk about this stuff. Make the question easy, light-hearted, and cool. People want to have fun doing this or they won't do it.
In addition, you have to present the copy correctly in the post. No block text, no technical jargon, no direct links in the body of the posting (remember that LinkedIn. See frame 16:06 in the podcast for more information on this.
#5 Be fun, easy, and cool
Here's a funny story.
The other day I was doing a LinkedIn live and I got on there just to test my audio. The title of the post was "Can you hear me?" I planned to get on and get off the stream, but I got so many people who engaged with the question that I ended up staying for almost 45 minutes.
Apparently it was an easy question to respond to.
The communications that are the most human, the most natural, the most comfortable to us as people are the ones that will engage the best. Relax and use the tone of a person instead of a financial advisor.
It will work better.
To clarify, I'll make it really simple. Don't be a financial advisor looking around for new clients on LinkedIn. In other words, try to just get conversations started. That is all LinkedIn wants. If you are at the center of that, you will get boosted up and attract all types of people to your page.
Sara's upshot
What'd ya think? Was this helpful?
If yes…
Learn what to say to prospects on social media messenger apps without sounding like a washing machine salesperson. This e-book contains 47 financial advisor LinkedIn messages, sequences, and scripts, and they are all two sentences or less.
You could also consider my financial advisor social media membership which teaches financial advisors how to get new clients and leads from LinkedIn.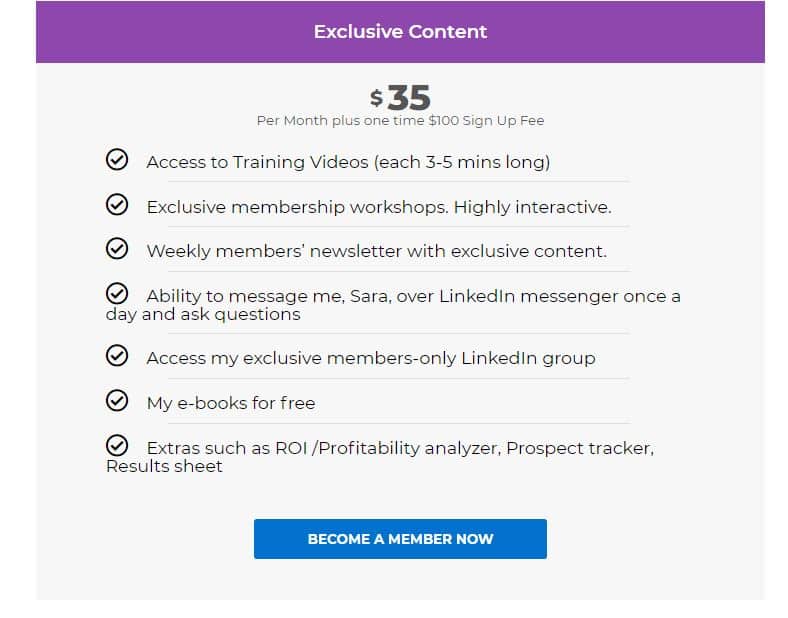 Thanks for reading. I hope you'll at least join my weekly newsletter about financial advisor lead generation.
See you in the next one!
-Sara G
Music is Nice to You by the Vibe Tracks
Disclosures
Grillo Investment Management, LLC does not guarantee any specific level of performance, the success of any strategy that Grillo Investment Management, LLC may use, or the success of any program.
Grillo Investment Management, LLC will strive to maintain current information however it may become out of date. Grillo Investment Management, LLC is under no obligation to advise users of subsequent changes to statements or information contained herein. This information is general in nature; for specific advice applicable to your current situation please contact a consultant or advisor.
Nothing in this article or podcast can be construed as legal or compliance advice. For advice about complying with your company's regulations regarding marketing-related activity, please consult your legal or compliance officer.