Podcast: Play in new window | Download
In this podcast you are going to hear the story of financial advisor Benjamin Brandt, a financial advisor success story.
For those of you who are new to my blog/podcast, my name is Sara. I am a CFA® charterholder and I used to be a financial advisor. I have a weekly newsletter in which I talk about financial advisor lead generation topics which is best described as "fun and irreverent." So please subscribe!
Can a financial advisor become a success story from the internet?
The three things that made this financial advisor a success story were as follows:
Weighing your options and choose the right type of content to produce
Optimize your content for internet keyword searches
Create relevant content that will attract the same type as the clients you usually serve
Let's talk about 'em!
Step #1: Choose the right way to utilize your unique abilities
There are a multitude of ways that financial advisors have typically gone about getting appointments with people who might be interested in working with them. In today's age, what are the typical ways that a financial advisor can attract new clients?
SEO optimized blogs and YouTube videos
Social media sites such as LinkedIn, Facebook, Twitter, etc.
Podcasts about retirement, college planning, and other wealth management related topics
Online or in person seminars
Email newsletters
In person networking events
Referrals/word of mouth
The latter few financial advisor lead generation strategies have been around for ages, while the first three ways for financial advisors to get leads are internet-based and relatively new to the game. It doesn't really matter which method you use; what's important is how well you execute on it.
Ben Brandt knew that podcasting was right for him because of his tendency to be able to speak at length on the subject of retirement. He could have attempted to blog on the same subject, but it probably would not have been as effective.
Podcasting is one form of marketing, and there are many other ways to go about searching for new clients on the internet. Other financial advisors have found social media platforms such as LinkedIn, Twitter, and Facebook to more suited to their strengths. For an example of how to execute a financial advisor social media strategy, please view the video below.
Step #2: Optimize your content for internet keyword searches
Ben struggled for a long time to get momentum when he started his podcast. At first, Ben tried to optimize his content for the keyword "North Dakota Financial Advisor", but it didn't generate very many queries each month. Things changed when he started to use the search term "retirement podcast" to optimize his content. He went from getting low listenership to attracting hundreds of new listeners to his podcast each month.
The monthly downloads went from 200 to 500 to 5000 to 25,000 and more. All because he found the once correct term to optimize his content for. Industry leaders talk about the compounding effects of content. Much like how the interest from a bond or a high dividend stock compounds over time, hits on internet content beget more views the more popular the content becomes.
If you want to be a financial advisor success story from internet marketing, you should:
Find out what terms your audience is typing into Google
Be the result that they find by creating content with those terms in it that is keyword optimized and easy for Google to identify as answering this need
Grow your site's authority and target specific terms so that the audience finds you
Step #3: Create relevant content that will attract the type of leads matching who you serve as a financial advisor
Early on in his show, Ben developed an "avatar" listener which happened to be one of his favorite clients. He asked himself what content he could create that would be interesting for that person. That is what has made his show successful; because the audience feels as if he is talking directly to them.
The most successful marketing is highly attuned to the preferences of the viewer. Ben developed a special rule that financial advisors can use to create new content for their podcast or blog. It measured the energy around specific topics.
If you hear a question 5 times from clients or prospects, it becomes the topic of your next content piece
If you hear a question 10 times, it becomes your next lead magnet (the free thing that goes on your website that people have to give you their email address to get)
If you hear a question 15 times, it becomes your next webinar
Answer the questions in a way that people can understand (as opposed to financial advisor language). Relevance is an important part of creating a successful content strategy that will allow financial advisors to get leads from the internet.
Love your content and your audience, and have passion for what you are delivering. Nobody wants to listen to a financial advisor reciting the CFP manual. It's got to be fun if you want to attract financial advisor leads.
Leads from the internet can be much higher quality leads (potentially)
According to Ben, podcasting is very intimate in the sense that you are living in someone's cell phone. You are talking directly to someone's ears. They know what it sounds like when you breathe. If they listen to you for a month or two months, when they finally pick up the phone they are going to literally be able to finish your sentences.
Creating content and nurturing your audience along is the driver of how financial advisors get leads from the internet. The level of familiarity is much higher when it is somebody who has been listening to their podcast or reading their blog. It is a night and day difference from meeting someone at the Chamber of Commerce meeting or teaching a class at the local college where people get to meet you once.
To use Ben's words, they're already rounding second base headed for home instead of at home plate swinging at the pitch. If you are consistent with your publishing schedule, you are inserting yourself into their daily schedule. If you watched your favorite program for years, you could still tell me the time and day when the show airs. Building yourself into their life creates an incredible trust.
Financial advisor leads from the internet that are found using this strategy can be much higher quality leads for these reasons. Ben estimates that this year he will potentially talk to 60 new leads for his financial advisor firm, all from his internet podcast.
Now go become your own financial advisor success story!
What'd ya think? Was this financial advisor sudcess story helpful?
If yes…
Learn what to say to prospects on social media messenger apps without sounding like a washing machine salesperson. This e-book contains 47 financial advisor LinkedIn messages, sequences, and scripts, and they are all two sentences or less.
You could also consider my financial advisor social media membership which teaches financial advisors how to get new clients and leads from LinkedIn.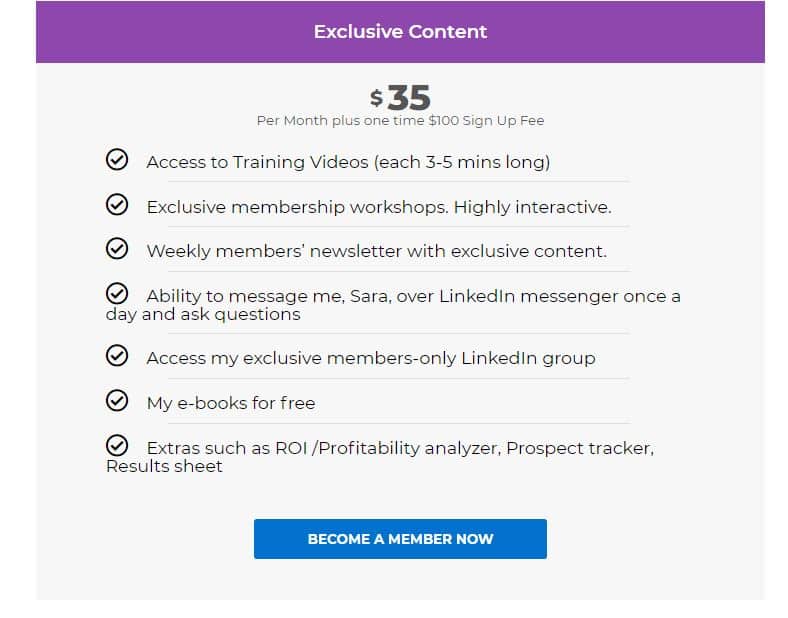 Thanks for reading. I hope you'll at least join my weekly newsletter about financial advisor lead generation.
See you in the next one!
-Sara G
Resources mentioned in this show
Music is Much Higher by Causmic