Podcast: Play in new window | Download
Subscribe: Stitcher | Email | RSS
Financial advisor lead generation services stink. Please read to learn about the four reasons that buying financial advisors leads does not work out most of the time.
For those of you who are new to my blog/podcast, my name is Sara. I am a CFA® charterholder and I used to be a financial advisor. I have a weekly newsletter in which I talk about financial advisor lead generation topics which is best described as "fun and irreverent." So please subscribe!
Let's get on with the blog!
4 reasons financial advisor lead generation services stink
I would never claim to be all knowing when it comes to financial advisor lead generation services. However, in my experience, most of the financial advisors who buy leads have had a negative experience.
Here are the 5 reasons why they stink:
#1 Weird data collection methods
#2 You may waste a ton of dough to get the diamond
#3 The lead is not for you exclusively
#4 It's one step above telemarketing
I am going to briefly discuss each of these reasons in the blog that follows.
#1 Weird data collection methods
There is really no way to know if the information reported by the lead is true. The data these services rely on is by the investor. It is not verified by the financial advisor lead generation services company itself. At no point does the company say, "Alrighty now show me your latest Fidelity statement because I am going to charge a financial advisor $200 and tell them you have $2MM in investable assets. I need to be sure you're not just making that up!"
Although every company goes about this differently, the process for collecting information from the investor usually goes something like as follows. The financial advisor lead generation company publishes a blog about a topic that will attract high net worth investors. Or they create a Google ad or something. Whichever way they do it, the investor is led to a lead magnet that they must input their information to download.
Every company gathers financial advisor leads in a different fashion. The investor is then required to input his or her phone, email and personal information about their assets, income, etc., in order to receive the lead magnet over email. This is a typical marketing move that many companies do in other to gather the investor's information.
Your Personal Information? (so-called)
However, here is where the process that these financial advisor lead generation companies use doesn't quite hold up. If I input my email and name so that I can get a copy of a report about which podcast microphone to buy, that is one thing. However when we are talking about someone's personal information such as how much money they have, it gets a bit weird.
If I were asked to answer a lengthy questionnaire about my personal finances, I would gloss over it and not spend the time required to do it right. We tend to blow off questionnaires in the first place and especially when it is a questionnaire of this type.
People feel weird about fully disclosing all their information this way over the internet to a company that they don't know. Investors are naturally distrustful of financial services companies in the first place. In a sense the process is setting itself up for failure because at no point do the financial advisor lead generation services company acknowledge this. They just gloss over it, collect the investor's info with some marginal, barely there disclaimer/consent form that the investor agrees to potentially be contacted by a financial advisor.
At no point is it usually made clear to the investor that his or her information is going to be bought by a financial advisor as a lead. Normally there isn't much clarity provided to the investor, so they don't really expect what comes next, which is typically a bunch of financial advisors calling them up and trying to get them to meet. It's not like there are neon lights blasting say, "NEWS FLASH: IN EXCHANGE FOR THAT RETIREMENT CALCULATOR YOU ARE GOING TO BE BOMBARDED BY FINANCIAL ADVISOR SOLICITATIONS FOR THE NEXT THREE WEEKS." Because quite simply, if the investor knew that, then very few of them would be willing to hand over their personal details.
The result?
The financial advisor pays $200 or whatever for the lead, calls the investor up, and what do they get?
Crickets, crickets, and more crickets.
The process that these financial advisor lead generation companies follow in getting these leads is often very lacking. The leads aren't vetted as fully as they need to be, and the investor's interest in not fully gauged. As a result, response rates tend to be very low.
#2 You may waste a ton of dough to get the diamond
The ROI for financial advisor lead generation services tends to be low. Let's say you pay $200 for a lead. In my experience, advisors can buy 20 leads and not even get a single meeting. But let's say you get lucky and 1 in 30 leads converts to a client.
Well, what is the cost/benefit of a financial advisor lead in that particular case?
A total cost of $200 x 30 = $6,000 in fees is paid to the financial advisor lead generation services company
But that's not where it ends!
Now you have to take into account the implicit costs of the lead, the time and energy it takes you to close the deal. This means:
Time spent in meetings
Following up by phone
Following up by email
Etc.
Let's suppose you spend another $200 in your time and your company's time, materials, etc. on follow up. Even if you close 1 out of the 30 leads, your total cost is now:
$6,000 explicit cost + ($200 x 30) or $6,000 in implicit cost
Total cost of this lead is $12,000!
Hope they decide to stick around for a few years! You may say that a low ROI is at least an ROI.
Point taken.
However there are other methods that have much higher ROI such as building your own brand and your own lead generation system in house. There are a variety of ways to do this and I describe some of them in this membership here.
#3 The lead is not given exclusively to you
Unlike getting a lead from a private conversation you had on the golf green last week, these leads are not exclusive to you. The financial advisor lead generation services company sells the lead to you, and they also sell it to a few others. Essentially you are in the ring and it's a battle of who gets to the investor first and best.
This is highly competitive. In fact, it probably couldn't get much more competitive than this.
You're competing against other financial advisors and the prospect has no way to tell you apart initially. It's so easy for the investor to toss you out for the littlest thing, and they probably will because they have at least two other advisors blowing up their phone! You are wrestling for the investor's attention.
You're way better off sourcing leads from relationships you have or that you create in your personal or professional life. At least this way there is at least some likelihood that it won't be so cutthroat. For an example of ways that financial advisors can find new leads online, please watch the video below.
#4 It's viewed as one step above telemarketing
In my view, $200 or more is expensive for what is essentially a step above a stone cold lead. As I mentioned in #1, in some cases the investor isn't really looking for anything.
Once you buy the lead, you have to call the person up or email them and you are starting from a position of total distrust and invisibility. It's really hard to get these people's attention this way. Who likes getting phone calls from people they don't know?
Let's face it: instead of a high value financial advisor, the keeper of their future, hopes, and dreams, you look like a telemarketer.
Given the type of business this is, cold leads are hard to close. There is no trust, nothing to base anything on. They will feel free to mistreat you and even be nasty in some cases. If you want to earn their trust, be prepared to execute a strategy with multiple touch points (phone, email, snail mail, social media), not just one. Be prepared to work hard as you are starting from the lowest possible level of trust in the prospect's eyes. And even when you do, you're going to face a great deal of humbling and rejection.
Sara's Upshot – the real story on financial advisor lead generation
There you have it – the top 4 reasons that financial advisor lead generation services stink!
What'd ya think? Was this helpful?
If yes…
Learn what to say to prospects on social media messenger apps without sounding like a washing machine salesperson. This e-book contains 47 financial advisor LinkedIn messages, sequences, and scripts, and they are all two sentences or less.
You could also consider my financial advisor social media membership which teaches financial advisors how to get new clients and leads from LinkedIn.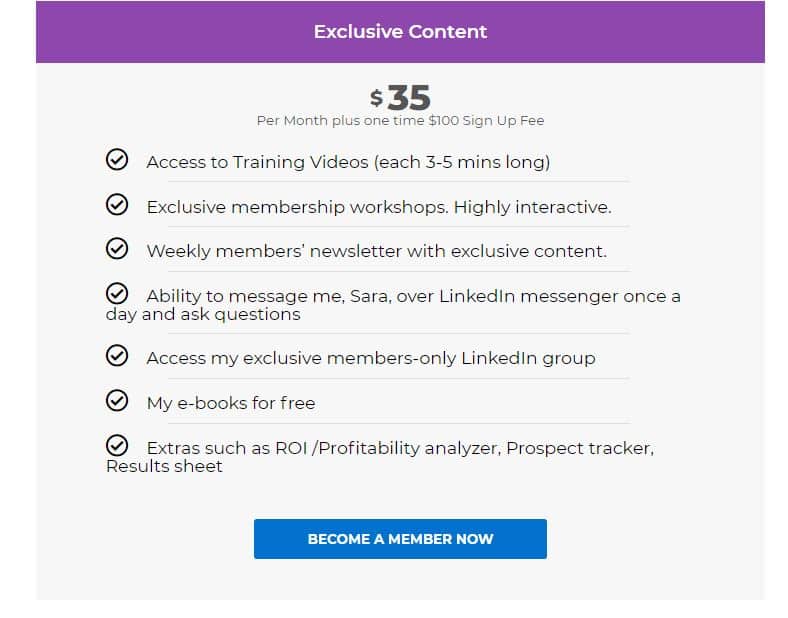 Thanks for reading. I hope you'll at least join my weekly newsletter about financial advisor lead generation.
See you in the next one!
-Sara G
Music is Much Higher by Causmic