Podcast: Play in new window | Download
I was honored to speak with Dorothy Hinchcliff to talk about the real story. How can we get more women in finance?
For those of you who are new to my blog/podcast, my name is Sara. I am a CFA® charterholder and financial advisor marketing consultant. I have a weekly newsletter in which I talk about financial advisor lead generation topics which is best described as "fun and irreverent." So please subscribe!
Why aren't there more women in finance?
It's very simple.
The pay structure in many financial careers (not all, but many) is simply not suited to the path that a woman's life usually takes.
When I was a financial advisor, (a way long time ago before I started this blog, became a marketing consultant for financial advisors, etc.), what ended it for me was the birth of my son. I already had one baby who was about one and a half. Here's what the experience was like right after I gave birth to my second child while working as a financial advisor/insurance agent:
I couldn't take maternity leave because if I did, I wouldn't be paid.
I couldn't sleep at night.
I had to go into work and fill out life insurance applications with my clients because you can't do that type of thing over the internet (or, you couldn't at that point – not sure if it's changed or not)
I was tired all the time.
I had to work when I was too tired to focus.
I had to pump in public bathrooms, and sometimes the only one available was a one person bathroom. There was one day I had to wait 20 minutes while lactating like crazy, and it made a mess, was really painful, and was just awful.
There were no health insurance plans that were affordable while I was starting out trying to build my financial advisor practice.
I was misled into taking the offer under false pretenses of being paid more after the initial "trial" period.
One night I lay awake and decided that I just couldn't carry on anymore. Maybe it was the particular line of work within the field of finance that I was in, but I guess the sense of purpose wasn't strong enough to carry me through the hard times. I went in and quit my job.
Real talk.
The pay challenges are severe and in some cases a barrier to entry for women in finance because in many cases (specifically for financial advisors) the more entrepreneurial jobs in finance are for no salary. I had actually been coerced and misled into taking the job. I told them that I was going to have a baby and I needed to be able to afford daycare. They told me that after the initial period my salary would increase and that I didn't need to worry about that, because they would "take care of me."
Heh.
Nope.
Look, I know this isn't every woman's experience in finance…but it was mine and I think alot of women can identify with at least some elements of this story. If we want to get more women in finance, something has to be done about the environment because it's not woman-friendly.
Please listen to the podcast at the top of this page. It will help us crack the code of how the industry needs to change if there are to be more women in finance.
Sara's upshot
What'd ya think of my blog about women in finance? Was this helpful?
If yes…
Learn what to say to prospects on social media messenger apps without sounding like a washing machine salesperson. This e-book contains 47 financial advisor LinkedIn messages, sequences, and scripts, and they are all two sentences or less.
You could also consider my financial advisor social media membership which teaches financial advisors how to get new clients and leads from LinkedIn.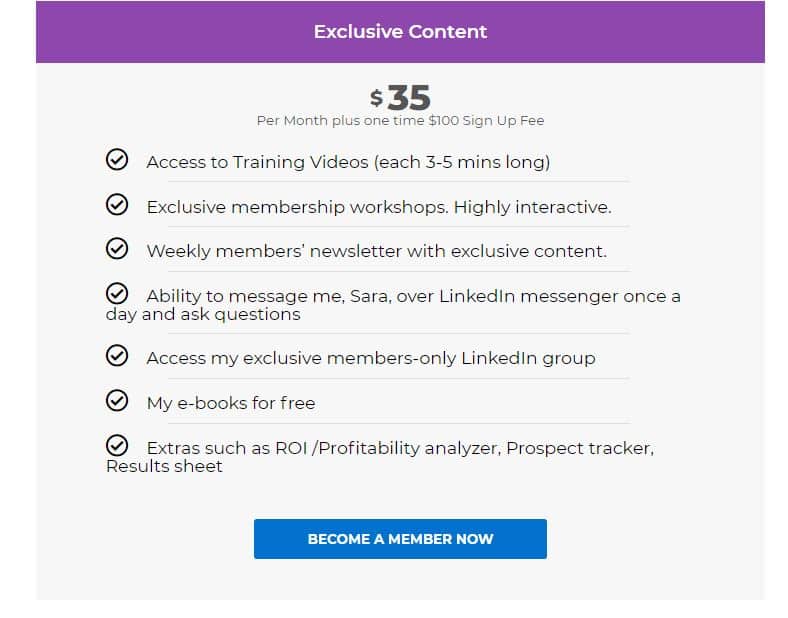 Thanks for reading. I hope you'll at least join my weekly newsletter about financial advisor lead generation.
See you in the next one!
-Sara G
Music is Arp Bounce by Geographer