Podcast: Play in new window | Download
Subscribe: Stitcher | Email | RSS
WOW that's painful to talk about. Could your financial advisor practice be more profitable? What should a financial advisor's profit margin be?
While helping the world with their retirement you just in fact may be neglecting your own.
For those of you who are new to my blog/podcast, my name is Sara. Currently, I am a CFA® charterholder and I used to be a financial advisor. I have a weekly newsletter in which I talk about financial advisor lead generation topics which is best described as "fun and irreverent." So please subscribe!
Financial advisor profit margins – get a fat one
In this episode with Jim Palumbo of DYNAMIC Advisor Solutions, advisors will learn the following about financial advisor profit margins:
Why the profitability of your practice is matters to your clients
The value of seeing yourself as a business rather than just a professional practitioner – both for yourselves and for your business owner clients
How far you can cut costs and which costs you should and should not cut
Two ways to grow your business and how to go about them
Profit margin guidelines for advisors who are acquiring other practices
How Jim got his business to 80% gross profit margin when he was an advisor
The likelihood of local talent meeting the needs of your practice
Sara's upshot
What'd ya think? Was this helpful?
If yes…
Learn what to say to prospects on social media messenger apps without sounding like a washing machine salesperson. This e-book contains 47 financial advisor LinkedIn messages, sequences, and scripts, and they are all two sentences or less.
You could also consider my financial advisor social media membership which teaches financial advisors how to get new clients and leads from LinkedIn.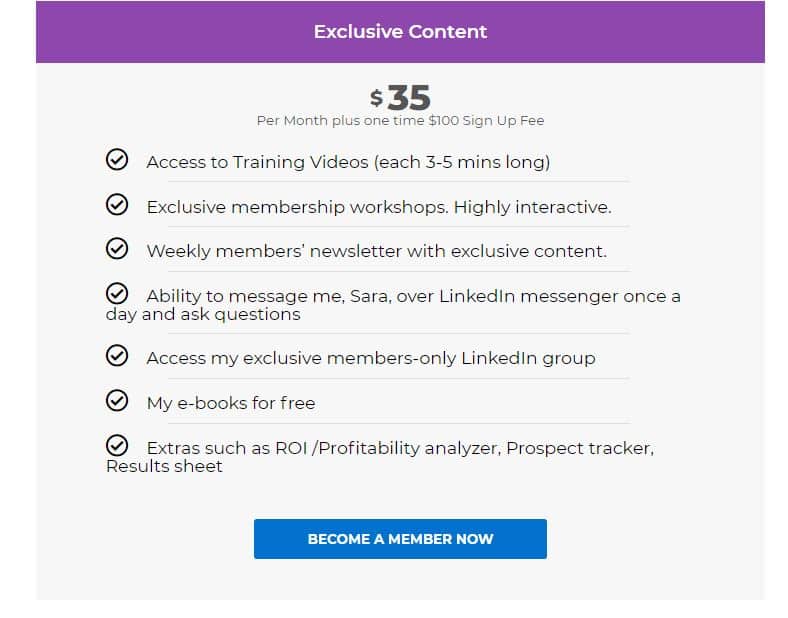 Thanks for reading. I hope you'll at least join my weekly newsletter about financial advisor lead generation.
See you in the next one!
-Sara G
Please subscribe, rate, and review this podcast!
Music is "Arp Bounce" by Geographer