Does anyone agree with me that pantyhose is perhaps the most uncomfortable piece of clothing on the face of the earth? Here are some of the best socks for financial advisors that you can consider that won't make you sacrifice your professionalism or your style.
For those of you who are new to my blog/podcast, my name is Sara. I am a CFA® charterholder and I used to be a financial advisor. I have a weekly newsletter in which I talk about financial advisor lead generation topics which is best described as "fun and irreverent." So please subscribe!
Why I threw mine in the pail
I've never been a fan of nylons from a financial standpoint. I find it extremely vexing that they go for $8 a pair yet they tear as easily as tissue paper. How do they get away with this rip off? There should be a money back guarantee.
What finally led me to escape was my first pregnancy. I had never before in life stored something the size of a basketball in my stomach. Oh, the bruised ribcage!
I got one of those pairs of pregnancy nylons (and believe me, those cost a fortune) but by the eight month, I felt like a tube of toothpaste being squeezed with the cap still on. I literally could not breathe.
I finally decided enough was enough, and emerged from the company bathroom leaving the dreaded things in the trash pail. I was stared down passing by the cubicle of a coworker who muttered, "That is so against company policy (eyes rolling)" loudly enough for the people around her to hear.
"So is making pregnant employees feel like a balloon that's about to burst!" I responded.
It just slipped.
What can I say, I'm too "bad" for Corporate America anyways.
It's not cool how women are expected to squeeze, cover, clip, dye, or cover up parts of our bodies 100% of the time so we can meet standards. We're all worthy of feeling beautiful as we are.
What do you think about these options?
Going bare
Admittedly I've sported this look before, as the nylon section of my drawer has been vacant for several years. To be honest I'm not the biggest fan of bareleggedness in business. Especially if you are working in a conservative industry like finance, you never know whom you will offend.
You have to be really careful that you are wearing a long enough skirt – at least past knee length. Make sure you test this by sitting down. The risk here is that any exposure of thigh skin is going to attract unwanted attention and you know what that does to your credibility.
If you go bare, consider that some people may be offended by this, even with the appropriate length of skirt. Consider how formal the company is that you will be keeping. If you aren't sure, stash a pair of nude tights in your handbag as a safety measure.
Women's trouser Socks: boring but more comfortable
Consider trouser socks. You've probably worn something like these before.
No Nonsense Women's Flat Knit Crew Sock
Women's 6 Pack Silky Sheer Knee High trouser socks
I'm still frustrated.
There were some interesting patterns such as polka dots and zig zags. Overall nothing too exciting. Plus, these sheer trouser socks often are lacy. I kind of feel like a doily when I wear lace.
What shoes do you wear with knit trouser socks? Maybe try Oxfords or loafers with a heel. Too masculine? I have some more feminine shoe options to discuss later in this article.
Men's trouser socks: cash 'em in!
If you share my frustration with the lack of eye-catching women's trouser socks, I would suggest throwing caution to the wind and purchasing men's trouser socks.
I found some men's trouser socks that make a statement. Although these were created for men, to me they don't appear overly masculine.
Look at these beauties. Teal heatmap swirls with some yellow accents throw in there, zig zags. Fun!
Now we're talking!
Just be careful with the striped one; you don't want to look like Where's Waldo.
How to wear men's trouser socks femininely
Now, let's say you wanted to wear trouser socks with a skirt.
Shocker!
Yes, it can be done although consider your company. If you are going to be around people who have a heart attack over every little thing, this may not be the best look.
Here are some combos to consider:
Midi skirt with high heeled stiletto ankle boots. Leave a little sock (about an inch) showing up high and this looks great.
A-line skirt with pointy toe pumps. Match the pumps to the skirt and use a patterned sock.
Trouser skirt with t-straps or mary jane heels. If you wear a patterned sock, make sure it doesn't look weird where the shoe cuts the ankle in half. Striped socks may be the best option here.
Sara's Upshot on the best socks for financial advisors
What'd ya think of my blog about the best socks for financial advisors? Was this helpful?
If yes…
Learn what to say to prospects on social media messenger apps without sounding like a washing machine salesperson. This e-book contains 47 financial advisor LinkedIn messages, sequences, and scripts, and they are all two sentences or less.
You could also consider my financial advisor social media membership which teaches financial advisors how to get new clients and leads from LinkedIn.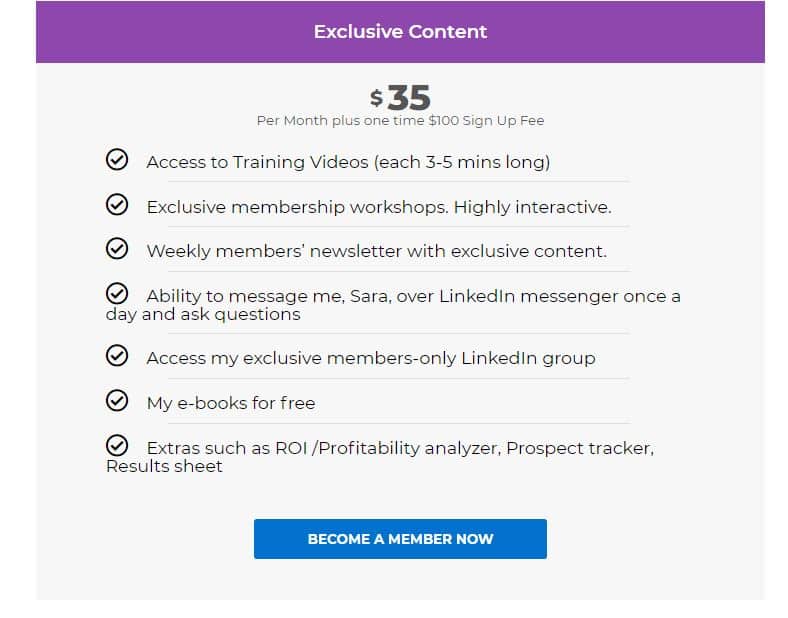 Thanks for reading. I hope you'll at least join my weekly newsletter about financial advisor lead generation.
See you in the next one!
-Sara G