Want to get a good LinkedIn profile? Here are 5 examples of what you should and should not say on your LinkedIn profile.
For those of you who are new to my blog/podcast, my name is Sara. I am a CFA® charterholder and I used to be a financial advisor. I have a weekly newsletter in which I talk about financial advisor lead generation topics and it is best described as "fun and irreverent." So please subscribe!
Here are the components of a good LinkedIn profile; I'll discuss them in greater detail and provide examples of great LinkedIn profile pages below.
Have a purpose
Include custom content
Get recommended
Smile
Ace the headline
Have an actionable purpose in your About Field
The word is brand. Get rid of the jargon, get rid of the fluff, and tell the world what it is that you have to offer right there on your LinkedIn profile. There's no reason you shouldn't do it; it's free, for goodness sake!
Get rid of the wishy-washy copy about how you want to change the world and get to the real point: what are you looking to do, why are you looking to do it, and why are you well qualified to help who it is that you want to help.
Take for example my own LinkedIn page, Sara Grillo. I make it clear that I'm here to make change in a non-BS way and I tell people how they can follow my content:
People don't like being sold but they love being helped. I have so many free resources on my page that the reader is glad they came. If you are having the reader leave with more than what they came with, and it's meaningful and focused on their needs, there is no issue with making the point that the reader should take action.
Include an action step in your About Field, something you want people to do that will help them.
Include custom content
When somebody happens to come across your profile, give them something they can sink their teeth into. Remember that this is an opportunity to say something about what you are about.
That's exactly what publishing an article on your page can do. Take a look at the LinkedIn page of Petr Zlaty. I love Peter's article, "Why is integrity my No. 1 value." And what a great first line, "In my resume you can find that my key values are integrity, curiosity and loyalty." So while he's talking about a high level concept, he's also giving us a clue that he has a resume (and by the way, wouldn't you be curious to see it?).
What Peter has also done very nicely is presented a strong visual brand with the fascinating background photo as well as the thumbnail for the article. Pictures are a big part of making your bio appealing to the eye, just be sure you are careful to get royalty free images.
By the way, if you are considering LinkedIn Premium or LinkedIn Sales Navigator, check out this video below I made.
Get recommended
Every time you leave a job or end a client engagement, you should get a testimonial on LinkedIn. Get into this habit. It's not like these have to stay on LinkedIn – you can see for example on my Reviews page on my website I've taken what people wrote about me on LinkedIn and put it there.
I like how Michael W. Staib has done this. He has 15 recommendations on his profile. If I'm looking at him for a job, I can see what other people are saying about him. People love that. Why do you think Yelp is so popular?
Smile
Yup, it seems so basic.
The warmer and more welcoming personal appeal you can present, the more receptive people are going to be to you. A smile is a very important part of your LinkedIn headshot.
Jason Grillo is a great example.
Ace the Headline
Your headline should speak to your purpose and grab the reader's attention. It should not only contain your functional title such as "president, CEO" or "analyst" but also something more conceptual that reflects your mission and purpose.
Take for example non-profit founder Jean Paul Laurent whose headline is "Mayor of Smile."
Love it. Nice job.
He's a humanitarian focused on dental health.
The shorter the better when it comes to your headline, by the way. Some people want you to go on and on, but I think a short simple phrase about your title and what you do is best. No need to clutter a good LinkedIn profile page with a million different buzzwords.
Sara's Upshot
What'd ya think? Was this helpful?
If yes…
Learn what to say to prospects on social media messenger apps without sounding like a washing machine salesperson. This e-book contains 47 financial advisor LinkedIn messages, sequences, and scripts, and they are all two sentences or less.
You could also consider my financial advisor social media membership which teaches financial advisors how to get new clients and leads from LinkedIn.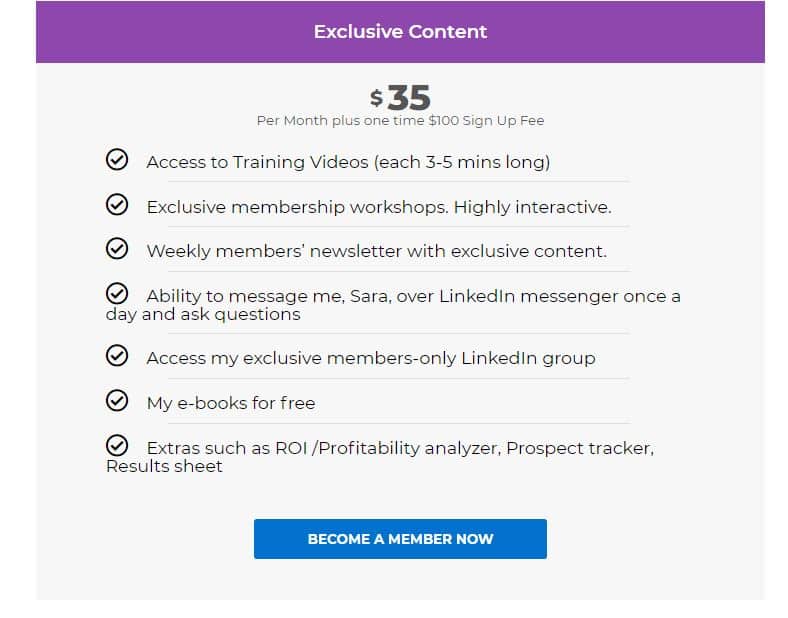 Thanks for reading. I hope you'll at least join my weekly newsletter about financial advisor lead generation.
See you in the next one!
-Sara G